Delivers smooth, glossy, moisturized hair
Helps to repair dry & damaged strands
Cuts blow dry time by up to 30%
Results last for up to 6 weeks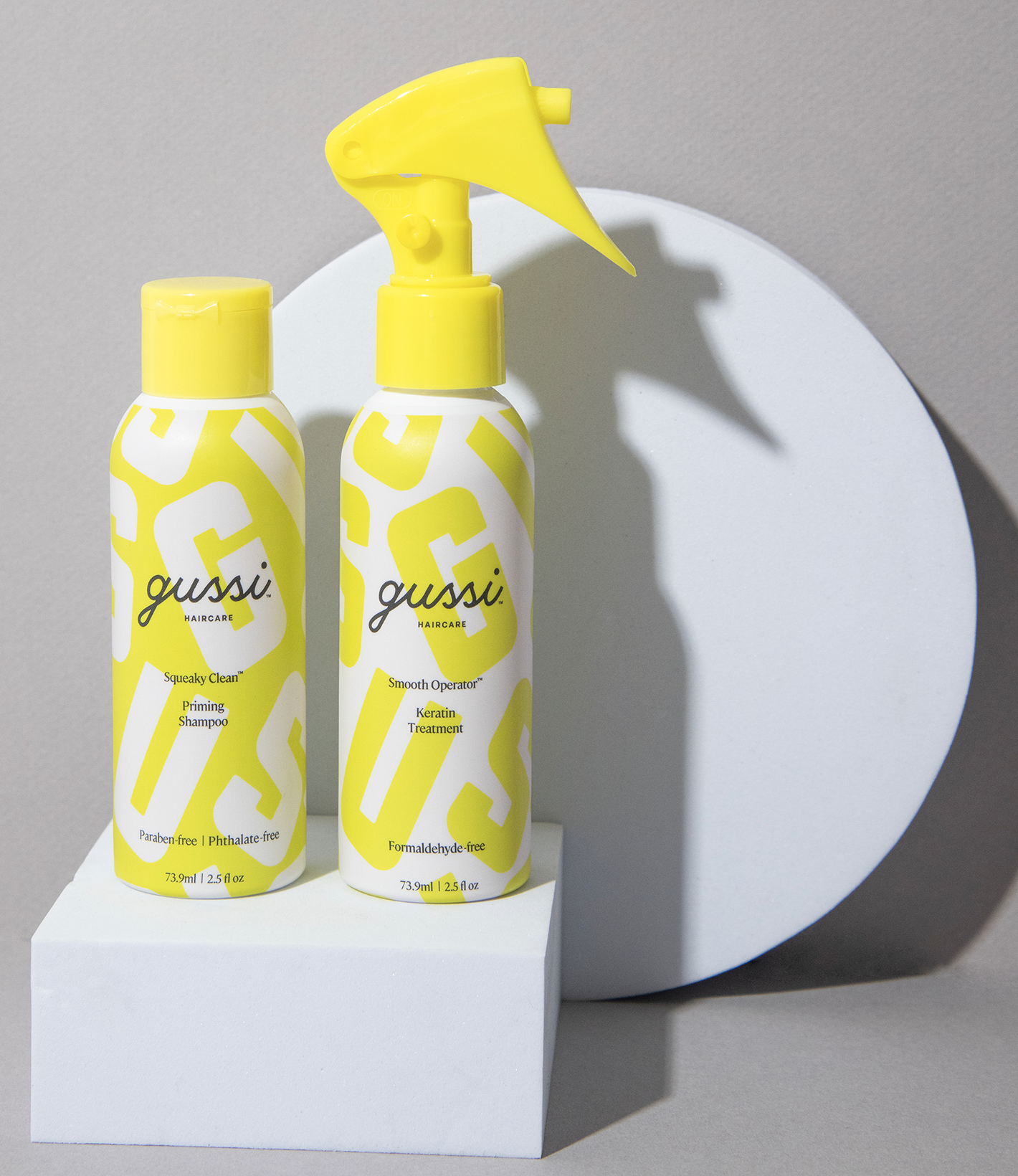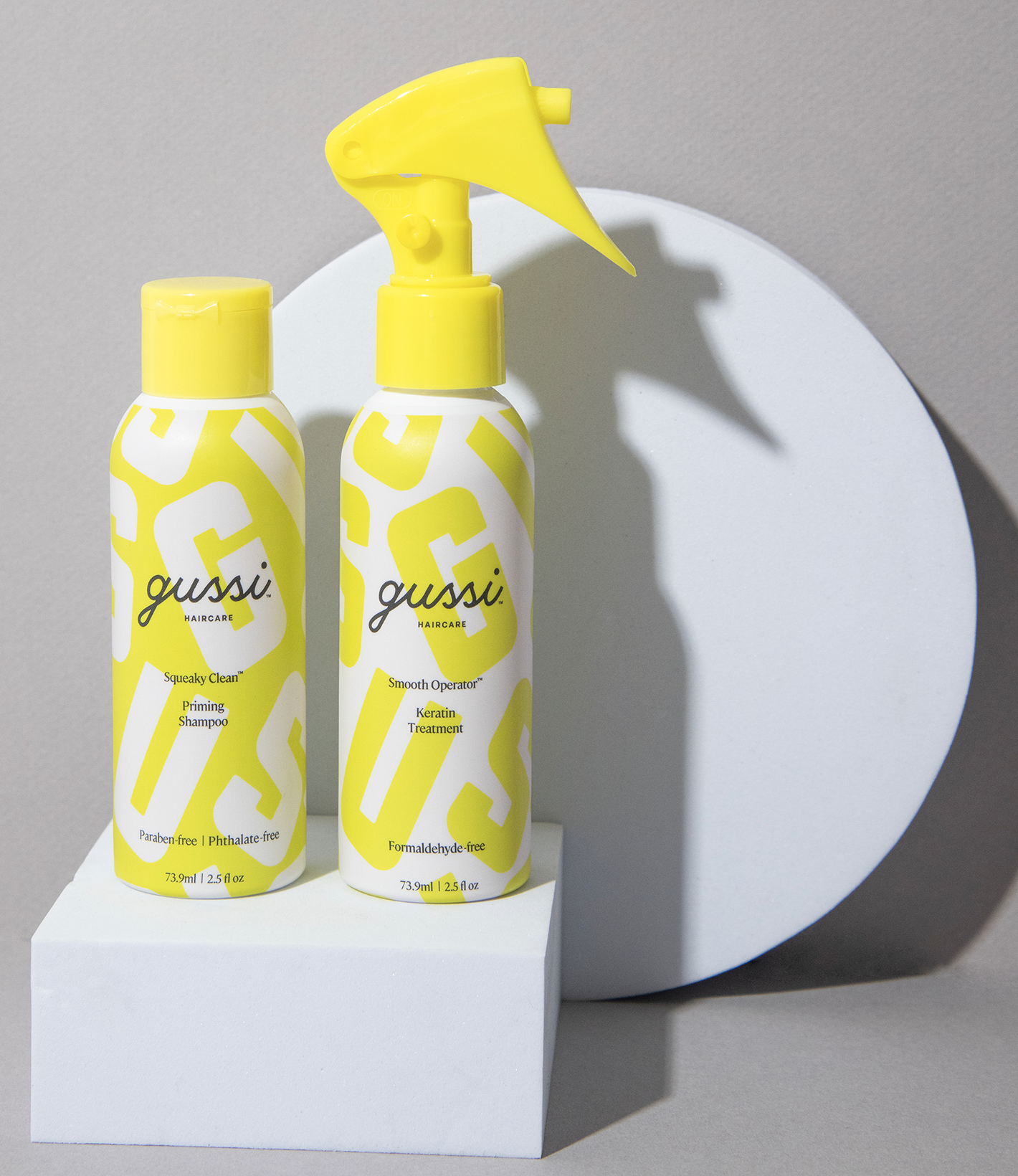 Say hello to your hair's new BFF
Gussi here, an innovative, first-of-its-kind, CLEAN & non-toxic keratin smoothing treatment. Best thing since… uh… ever. Professional salon-quality obtained at home, in only about an hour from start to finish, and oh so easy-to-use. No matter your hair type, texture or tone, transform your hair for up to six weeks with just one treatment. Wear it straight and sleek or flaunt those beautiful shiny curls. NO FRIZZ, NO FUSS.
Color-safe. Made in the USA.
Real hair results
"A Magical Product. I love the result in my hair after using this product. My hair was super soft, very hydrated and shiny. Without a doubt, one of the best products I have ever tried. Highly recommended."
"Love! I've used other keratin treatments, and this is the best. I love being able to do it myself at home. My results were so good, I decided to buy another kit right away so I don't have to worry about running out!"
"Recommending to everyone especially curly girls. I was never a fan of a keratin treatment at the salon because of $$$$. I read the ingredients in this and trusted that it was not harsh on your hair and kept my curls. I was so happy with the results I told my cousin who told her friend. They both bought it and were surprised it lasted better than a salon treatment. Love how soft my hair feels and love that I don't need to use that many products to reduce my frizz."
"AMAZING. Better than any professional treatment that I have ever had!! Truly amazing! Very easy to do and I love the results!"
"Got The Bundle - Got The Results! About to do my hair for the second time - first time was DELIGHTED with the results; easy instructions to follow, quick and relaxing to do. My hair came out brilliantly. About to spend another pleasant afternoon pampering myself. Would recommend, especially as it is formaldehyde (as well as other nasties) free, which is hard to get."
"Smooth and silky hair. I have been using Gussi for two years [and it] leaves my hair smooth and silky. After I wash my hair there is no need for styling, I can let it air dry and it looks beautiful! Gussi is easy to use and is a great value."
"BEST ALL-IN-ONE STYLING TOOL! I've never used a tool that heats up SO FAST! The plates actually adjusted to my hair density and helped me style with such an easy glide! Mane Squeeze is the best all-in-one styling tool I've ever used. It's portable, travel-friendly, and the auto shut-off function is genius."
"BEST HAIR STRAIGHTNER NEW FAVORITE! I am soooo obsessed with this flat iron! I love how it heats up quickly and doesn't damage my hair. It's super sleek and easy to use and my hair has never looked so good! You will def want this in your hair routine and it's the perfect size/plate to style your hair straight or curled!"
Smooth, style, shine
for endless great
hair days.
Clean, safe &
cruelty-free
We wanted Gussi to have standards as high as yours. So we swapped out formaldehyde and other harmful chemicals which are common ingredients in smoothing treatments that can be extremely dangerous for the air you breathe and even your skin. We're proud to keep it non-toxic and cruelty-free with no animal testing, ever.
PETA & Leaping Bunny certified cruelty-free
MORE ABOUT OUR INGREDIENTS
SMOOTH IT YOUR WAY
Easy to use & works for everyone
What's better than a great hair day? Up to 42 of them. Get smoother, shinier and healthier hair that lasts and lasts, with just one treatment.
Only about an hour
start to finish
Color-safe. #gussiUP
before your dye job
No waiting time to
wash or style hair
Doesn't change hair
structure so won't
ruin curls