8 Hairstyles for Your Next Vacation
Got a vacation on the cal that you're super excited about? Maybe you have the flights, hotels and outfits picked out (looks = #priorities), but what about your hair? The perfect jet-set hairstyle can make or break all those vacay selfies.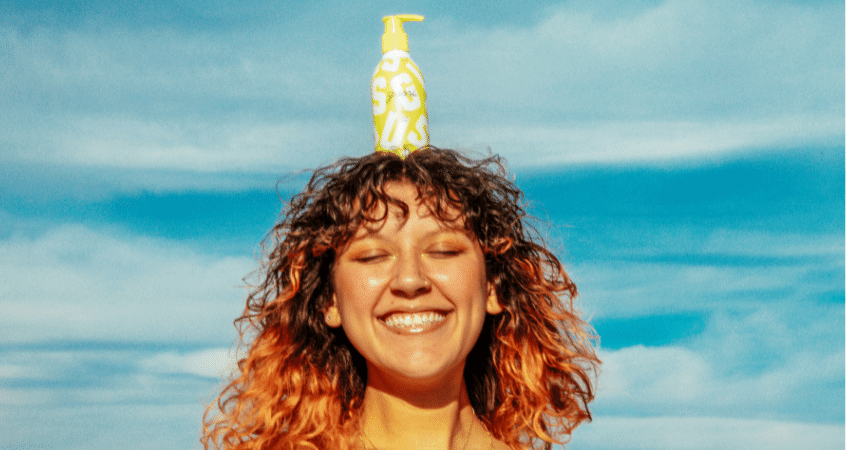 Got a vacation on the cal that you're super excited about? Maybe you have the flights, hotels and outfits picked out (looks = #priorities), but what about your hair? The perfect jet-set hairstyle can make or break all those vacay selfies.  
Whether it's hairstyles for hiking or hairstyles for the beach, ensure your hair looks flawless at every destination - and in every photo. Spend less time worrying about your hair and more time enjoying that well-deserved R&R by doing an at-home keratin treatment before you take off. Why keratin? Keratin fortifies the hair and makes it smoother, shinier, and more manageable, even if you air dry it while on the go. With Gussi's salon-quality keratin treatment, you can enjoy healthier and more lustrous locks for up to six weeks! About one hour to do the treatment delivers endless great hair days all throughout your vacay. 
Once you have your hair silky smooth from the keratin treatment, get ready for ultimate styling flexibility while OOTO. Did we mention a Gussi treatment cuts blow dry time by -30% and won't break your natural curl pattern? With your hair ready for take off, here's eight easy-to-master vacation hairstyles, no matter where your adventures take you.
Beach Babe
There's nothing like soaking up the sun and sand with the perfect beach vacation hairstyles. Tropical locations such as Miami, Hawaii, Aruba, and the Caribbean bring the heat, but they also bring humidity– plus potential rain showers and windy weather. You'll want your hair out of the way, easy-breezy to catch all the rays. Not only are these styles versatile and easy to create, but these are also the best natural hairstyles for a beach vacation. #gussiUP before setting foot on the sand, and there's no need to fear the frizz because you can go au-natural, baby.
Sleek High Ponytail
Inspired by @makeupshayla snatched pony
Make a style statement with a sleek high ponytail. Start by adding volume through the mid-lengths to ends with a volumizing spray and lightly tease your hair with a fine-toothed comb. Gather all your hair into a high ponytail and secure it tightly on top. Use a bit of styling pomade or a light gel to slick back the top pieces for a style that's fast and full of attitude. Bonus points if you use a fun hair tie or wrap a piece of hair around the ponytail base to cover your elastic (keep it locked in place with a bobby pin). Hair out of your face, check. Hair snatched, check check. 
Messy Bun
Inspired by @kazcrossley super cute bun
Perfect for a day of soaking up the sun and frolicking in the sand, the messy bun is an easy updo that works for almost any hair length. Apply a texture spray all throughout hair– air dried or day old hair works best to achieve the casually undone look. Wrap hair roughly into a bun and secure it with a looser elastic like a cute scrunchie. You can rock it high up top or behind your head just above your nape, whatever you're in the mood for. To make it extra messy, pull out a few shorter tendrils and let them frame and flatter your face. You can spice up this look with a  thin scarf that matches your bathing suit. Rock it either as a headband or wrapped around the bun. 
Natural Twists
Inspired by @ina90skindofworld gorgeous twists
Talk about style and go! Twists are the perfect protective hairstyle for locking in moisture during your vacation beach days. This hairstyle requires little maintenance once it's set, and can be mixed up with fun accessories based on your locale and looks. Section hair and start from the bottom, working in small sections. To get an extra neat look, start off by adding rubber bands at the root of every twist. Once the rubber band is in, split the piece into two and start twisting them tightly. Once you get to the bottom of the twist, secure the end by twisting over and over. Continue these steps until all of your hair is twisted. This style also goes flawlessly from day to night, so you never miss a beat of the party.
City Slicker
London - or New York, Barcelona, Tokyo, or Cape Town - calling? Major city vacation spots are a great way to experience different cultures and try new things - not to mention shop and eat til you drop!  Get ready to pound the pavements and see as much as possible while looking as good as all those iconic sights by playing with different hairstyles for vacation.. Don't let your hair hold you back from an experience of a lifetime. Rather than seeing your frizzy hair, wouldn't you rather see the beautiful historic sights right in front of you? We know we would.
Modern French Twist 
Inspired by @alexgaboury whimsical updo
We love how curly, wavy or straight hair effortlessly comes together in this hairstyle - it's a universal classic for a reason! Start by adding some texturing spray all throughout your hair to give it staying power once it's set. Simply gather your hair around your fingers by the nape of your neck and twist to the right. Pull up hair from the bottom to the center of your head and tuck in the ends on the right side. Gently bring up the hair from the bottom over the bun you've created and use bobby pins to secure the hair from the right side. For the finishing touch, gently pull out strands by your ears to frame your face. Add a light all-over misting of hairspray to keep everything in place. You're pretty as a picture in this hairstyle for on-the-go sightseeing that's practical AND gorg!
Tousled Waves
Inspired by @mollymae cascading waves
Perfect for any time of year, tousled waves are easy to create with a flatiron or curling wand and just a few spritzes of hairspray. Start with smooth hair (thank you Gussi) and use the styling tool of your choice to create loose waves all around the head. If you find your curls are a little too tight for the effortless look you're going for, run a brush through your hair after finishing curling. A little shine serum or balm on the ends helps to enhance the piecy, cool-gibe vibe. Nothing says euro-chic more than completing this hairstyle with a headscarf or beret. Tres chic!
Nature Lover
If you're looking for breathtaking views and a zen reset, exploring nature is a great option. From hiking to surfing, being outdoors with nature can lead to beautiful unique experiences. Detox from digital life in Tulum, get your adventure game on in the wilds of Alaska, or go on a safari adventure in Kenya. No matter where you're exploring, make sure to pack your bug spray and a game plan for stylish and easy hairstyles.
Single Loose Braid
Inspired by @chelseakauai braid in the wild
Loose braids are one of the most versatile low-maintenance hairstyles. Separate hair into three sections and interlace the left and right sections over the middle. Repeat and continue until you have a single loose braid. Secure the end with a hair tie, and feel free to pull out some pieces for a more tousled look if that's your speed. Apply a light mist of fine-hold hairspray to help keep it all together. This hairstyle looks super cute in photos but also does a great job of keeping hair out of your face. It's a win-win. 
Mini Braids
Inspired by @seunokimi gorgeous braids
Rock a hairstyle that is stress-free and lightweight when going out into nature. Divide your hair into small sections and once you have your parts decided and the size of your braids confirmed, braid away! The tighter the better so the braids last longer. Apply some hair gel to the roots of the section to help keep the braid in place. Once you reach the ends, add a little more gel for hold or use mini rubber bands to keep your braids in place. And don't forget the SPF every time you step outside!
Pigtail Buns
Inspired by @delaneychilds space buns 
Keep your hair up and see the spectacular views of nature around you with this hairstyle for hiking. Gather up your hair into two pigtails on either side of your head. Dirty hair works great for this one, just start with a shot of dry shampoo! Twist each section of hair into a tight ball and pin it in place. Release a few short-hair strands to make it look fresh and carefree. Your hair will be photo-op ready no matter where the trail takes you.
Gussi makes it oh-so-easy for you to get the best hair for vacation with our At-Home Keratin Treatment Kit. Get unbelievably glossy, tame, healthy hair in just one sitting. Each treatment kit comes with a Priming Shampoo to prep your hair for the frizz-fighting Keratin Treatment Spray. Just one treatment done prior to takeoff will have you enjoying beautiful, smooth, shiny hair for your whole vacay and then some - up to six weeks to be exact! Gussi also helps cut down on blow-drying, giving you more time enjoying vacation, and less time spent doing your hair. When you #gussiUP, you'll feel and look vacation-ready wherever you're headed. See you out there - you gorgeous globetrotters!