Gussi is Chemist and Trichologist Approved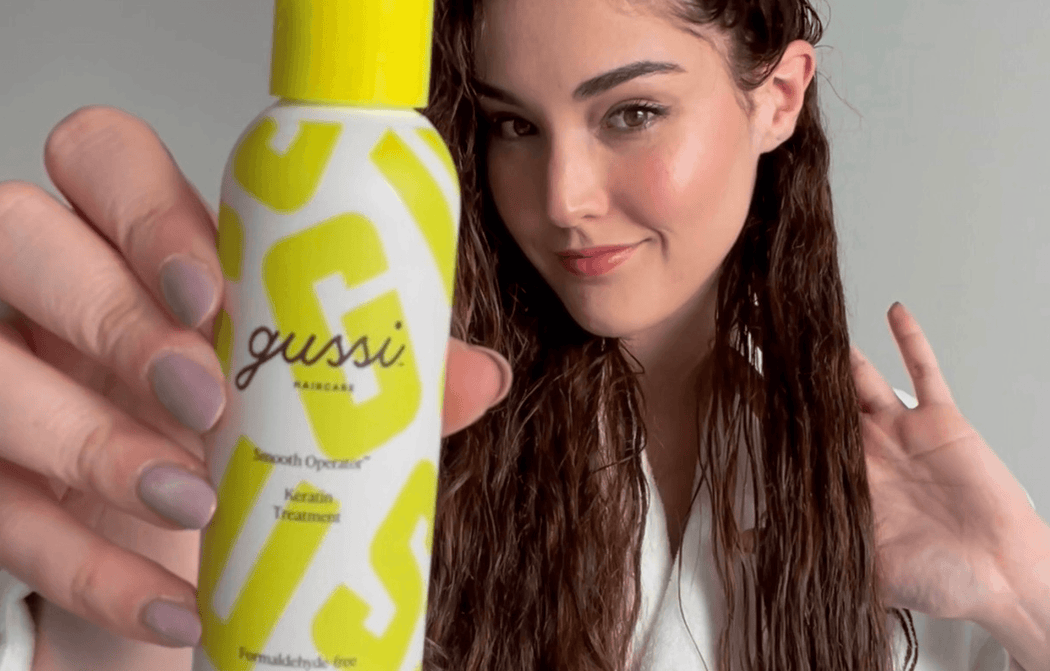 Hair Expert Recommended and Approved
Gussi's At-Home Keratin Treatment is hair-expert approved! We spoke with two hair industry aficionados who really know their stuff. Not only did they love the long-lasting results of our At-Home Keratin Treatment 😍– but the science checks out 👩‍🔬! We're here to clear the air, debunk common Keratin Treatment myths, and dive into what makes Gussi's treatment separate from (and safer than) the rest. So, let's hear it from the experts: Gussi lovers Alexandra Arriaga & Mahazabin Alam!
Chemist and Masters in Public Health
Q: Is keratin dangerous? We've been seeing some scary info in the news!
"The main danger with Keratin treatments is that most of them contain formaldehyde. 
Formaldehyde is a colorless, strong-smelling gas that presents a health hazard when breathed or when it gets into your eyes or skin. It has also been classified as a human carcinogen by the International Agency for Research on Cancer (because at high levels or prolonged exposure, it has been linked to certain types of cancers).
But that's not all, many Keratin treatments will have labels that say "formaldehyde free" but still contain the liquid form of formaldehyde, methylene glycol. Methylene glycol may have a different molecular structure from formaldehyde, but it readily forms formaldehyde."
Q: So, how do you protect yourself?
"Read the label! To identify products containing formaldehyde-related ingredients, look for:
Formaldehyde ❌

Formalin ❌

Methylene glycol ❌
All of these are big no-nos."
Q: Ok Alex, then is there a safe keratin treatment? 
"Yes, I did some research and I am 100% comfortable recommending @gussihair.
I was able to find a chemical certificate of analysis performed by an unbiased 3rd party lab that confirmed Gussi's At-home Keratin Treatment shows no detection of Formaldehyde or Paraformaldehyde."
Q: Can you tell us a bit about why you love Gussi's At-Home Keratin Treatment as an alternative?
"The main thing I love about Gussi's At-Home Keratin Treatment is that it is safe/formaldehyde free, and I am pretty happy with the results! 
Here's what I liked:
It doesn't change your natural hair texture, it just removes frizz. Even though you seal the product with a flat iron, your natural texture comes back after the next wash (minus the frizz 💁🏻‍♀️), so it's perfect for wavy-haired girls like me or anyone who prefers a curlier look.

Up to

six weeks

of frizz-free hair!

Affordable alternative to the salon price.
"If your natural hair runs on the frizzy, can't-be-tamed side of the spectrum and you can't be bothered straightening and styling day in and day out, you might have done a little digging into the big wide world of keratin treatments. First, there are in-salon options. And while they're highly effective, they can cost up to $300 or more and take up a big chunk of time (think: three to six hours). Then there are at-home keratin treatments, which can offer similar smoothing and straightening benefits at a fraction of the price and without many of the harsh chemicals (looking at you, formaldehyde). 
But—and this is a big one—it's important to do your research, which is why we've turned to trichologist Dr. Penny James and chemist and medical researcher Alexandra Arriaga. As Arriaga says: "Not all at-home keratin treatments are created equal." It's important to avoid certain chemicals and familiarize yourself with the pros and cons of each kind of keratin treatment. That said, while it's likely that you're going to get more foolproof, longer-lasting results from a salon keratin treatment, at-home keratin treatments can be worthwhile, budget-friendly alternatives."
Marie Claire recommends Gussi as one of "The 16 Best At-Home Keratin Treatments, According to Editors and Experts"! Here's what they have to say about our At-Home Keratin Treatment:
"The [Gussi] Kit promises results lasting a grand total of six weeks and works across all hair types. That said, it's not going to remove curls—it'll just elongate the curl pattern.  [Additional] Pros: Long lasting; Mimics salon results; Fast acting"
Trichology Student, Hair & Scalp Care Enthusiast
Mahaz is a Trichology Student– and an expert when it comes to hair and scalp health. She breaks down the dirty details on formaldehyde, and why you should be skipping unhealthy keratin products that contain it🙅🏼‍♀️. That's why Mahaz is opting for Gussi's Keratin formula instead– formaldehyde free ✅ non-toxic ✅ with long lasting results that speak for themselves!
 Q: Mahaz, so what exactly is formaldehyde?
Formaldehyde is a common colorless, strong-smelling chemical that is a gas at room temperature. It occurs naturally in the environment. 
Q: What type of formaldehyde is present in toxic versions of Keratin treatments, and should be considered red flags?  🚩
Synthetic Formaldehyde:
Permanent-press fabric, paper product coating, Certain insulation materials. When dissolved in water it is called FORMALIN or formaldehyde releasing gas which lingers days after use of cosmetics, shampoos, soaps and especially traditional hair treatments solutions.
Q: What are some of the ways toxic-formaldehyde can be ingested? 
Inhaling it (the main way people are exposed: absorbing it through the skin – like through the scalp), eating foods or drinking liquids containing formaldehyde. 😷

IARC, NTP & EPA considers Formaldehyde as a highly toxic substance 🚫and RECENT SISTER STUDY found women who were exposed to formaldehyde emitting products twice a year have a higher risk of cancer."
"This product [formaldehyde] does not belong in our body. This is why non-toxic hair products such as Gussi's At-Home Keratin Treatment is one I look forward to. I love Gussi, especially as a pregnant woman, because even after my baby is here, I can use the products. The treatment is safe in households with kids. Because formaldehyde lingers in the air and clothing materials, most expecting mothers and family refrain from using traditional keratin treatments. This treatment is toxin free, and I have gone through the ingredient list for safe checks. This will bring them peace of mind and reliability."
Gussi is committed to leading the pack when it comes to safe, formaldehyde-free, easy to apply At-Home Keratin Treatments. Expert Chemist and Trichologist Alex and Mahaz are Gussi Gang superfans! From the safe ingredients to the long-lasting results– Gussi's At-Home Keratin Treatment is the best choice for those looking to de-frizz their hair, add shine, and boost its overall health and hydration - safely. Shop the non-toxic, formaldehyde-free,  expert-approved At-Home Keratin Treatment today, and see the results for yourself!