Valentine's Day Hair Ideas
Wondering what Valentine's Day hair to rock this year? Whether you're glamming up or keeping things casual, using Gussi's Mane Squeeze styling tool is the perfect way to achieve all of your v-day hair dreams ✨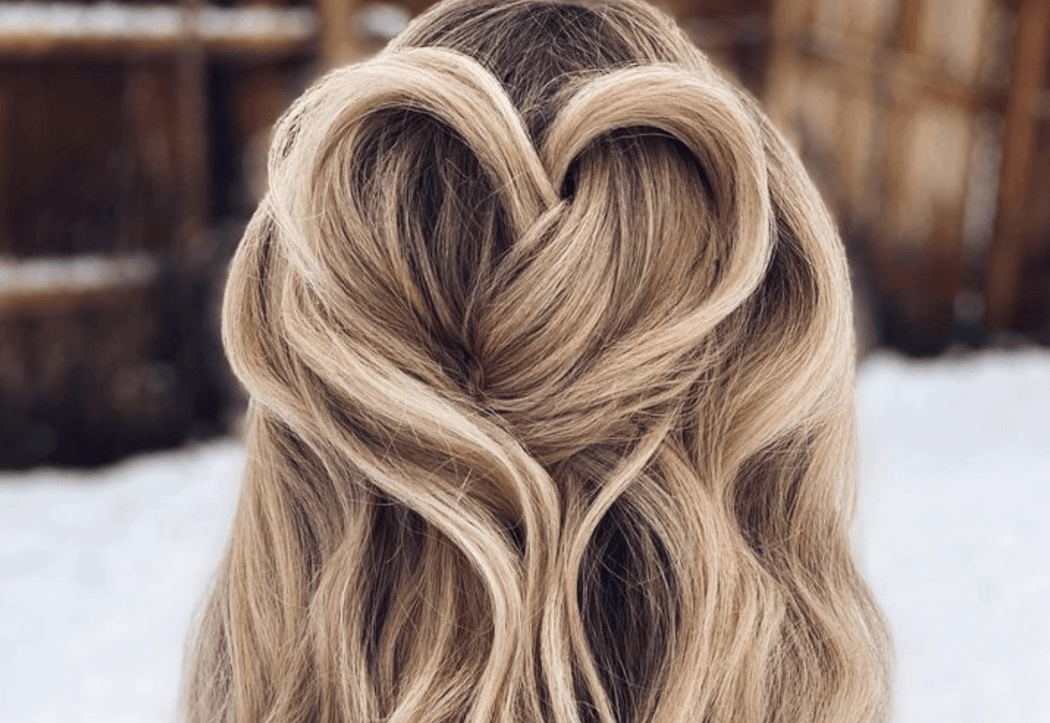 Whether you're Valentine's Day obsessed… or just love any reason to get a little glammed up, February 14th has a little something for everyone 💗 Maybe you're headed out for the romantic night of your dreams (dinner, champagne… ✨the works 🥂), maybe you're just hanging on the couch with your besties – hello, Galentines, or maybe you're just having a super self-care solo eve with your fave shows/books/snacks! At Gussi, we love a little *hair-flex* any chance we can get– especially when we get to use our Mane Squeeze™ Flat Iron for all of our styling dreams. Pair this unbeatable hairstyling tool with our At-Home Keratin Treatment for the ultimate Valentine's Day hairstyles. Let's run through some Valentine's Day Hairstyles we're takin' inspo from this year.
The Heart Bun
For those interested in a literal take on this heart-filled holiday, the heart bun is a perfect, simplistic style that looks elegant and is perfectly on theme. Steps for achieving this Valentine's Day hair are super simple– not many more than your typical low bun. We recommend using a hair donut if you've got one, (or picking one up on Amazon) in order to get that signature heart-bun shape❣️For added styling effectiveness, use our Mane Squeeze™ Flat Iron to achieve silky, straight locks– making this Valentine's Day hairstyle that much easier to recreate. 
Romantic & Flowy 

If you've got long locks to play with when you're styling your Valentine's Day hair this year— Gussi's Mane Squeeze flat-iron is your certified styling bestie. This flat-iron's abilities go far and beyond simply straightening (although that's a breeze with one-pass results, precise temperature control, and fully heating in under 60 seconds‼️) . We love a flowy, wavy look for Valentine's Day hair as a perfect flirty and fab style for your big date (or girl's night in 👯). Looking to add more smoothness and shine to your hair to achieve this look? Treating your hair with our At-home Keratin Treatment is the perfect way to prime your hair with lustrous softness  before hitting it with our Mane Squeeze styling tool. The added hair nourishment will help to create gorgeous cascading waves in your hair, super romantic for the big v-day.
Elegant Updo with Accessories

Accessorizing with a hair accessory like a bow or the Top It Off Silky Soft Scrunchie from Gussi is always an option when you're looking to elevate an everyday hairstyle to *special occasion* status 🎀 Plus – this hairstyle is perfect for looking ~elegant~ while keeping your hair out of your face and super manageable throughout your night. Using a bow or styling with a scrunchie on an elegant hairstyle is a certified way to recognize that you are the prize 🏆– while keeping your hairstyle fun, classy, and poised for even the most luxurious restaurants. We love hitting our hair with our quick-heating, super precise Mane Squeeze styling tool, to get those silky, moisturized locks ready to stay in place and looking extra sleek.
Top Bun
Top-bun-loving-babes unite! ✨This simple and stylish hair design is perfect for everyday looks when we want to look casually, effortlessly gorgeous. Maybe you made some last-minute V-day plans and are short on time and resources for styling your hair. Not to worry – this hairstyle is oh so simple and can be elevated with the right accessories, (Gussi's Top It Off Silky Soft Scrunchie was made for top bun styling, just sayin' 😉) A tousled top bun is a perfect choice for low-maintenance Valentine's day hair! Or if you want to have cute and effortless waves, our Mane Squeeze styling tool will def help you achieve the ✨ look. ✨
Crown Braid
A crown braid for a V-day queen! This Valentine's day hairstyle is perfect for crowning yourself this holiday. This hairstyle might look a little complicated, but it's actually super easy to achieve by just braiding the hair forward from the back, and wrapping around the front of your hairline to create a "crown" like circle! This Valentine's Day hairstyle adds a little elevation to your look, without much accessories or time needed to complete! And if you need to temporarily straighten your beautiful curls to achieve this look, our super precise Mane Squeeze styling tool is perfect to help you keep those braids in place!
Slicked and Sexy
Arguably the easiest Valentine's Day hairstyle on this list– the slicked and sexy look is a great low maintenance, super sexy style for your v-day this year! By using a comb or brush, plus your favorite mousse or pomade to hold back your slicked look, you'll have a low-maintenance and stylish look that's sure to turn heads this Valentine's Day! This hairstyle is also great for framing up your face and keeping loose strands out of the way.
Short and Wavy
Cropped your hair into a shorter style and not sure how to wear it this Valentine's Day? Not a problem– this short and wavy look is a perfect way to style for Valentine's Day if you've got a little less hair to work with. Bonus tip — using our Mane Squeeze styling tool makes achieving these wavy looks that much easier. The rounded tips of the Mane Squeeze make it suuuper easy to achieve these wavy curls  🌊 —Plus its precise temperature control 🎯 and one pass easy-glide results make styling your hair that much easier 🙌
Styling Your V-day Hair with the Help of Gussi
While Gussi is the expert on all things Keratin– our Mane Squeeze and Top It Off Scrunchie are the ultimate tools for locking the Valentine's Day hair of your dreams! Our Mane Squeeze styling tool is the only hair-styling tool you'll need– masterful at straightening, curling, smoothing and everything in between. Working on all hair types and textures, this is the perfect way to lock in any of these v-day looks for your big night. Plus, the Top It Off Scrunchie is perfect for tugging those locks into place, and achieving some of the cute and flirty styles on this list! 💘 Be it a top-bun, low-bun, or anywhere in between– this chunky scrunchie is your must-have v-day accessory! 

Valentine's Day is just another chance to glam up— regardless of whether or not you're on a date, riding solo, or just hanging with friends. Take inspo from this list of Valentine's Day hairstyles, and be sure to check out all of the styling benefits of our Mane Squeeze Flat Iron for that added 🤌special something 🤌this V-day!