The Difference Between Keratin Treatment, Silk Press, Hair Botox & Nanoplastia
Keratin Treatment, Silk Press, Hair Botox … Nanoplastia, say what⁉️ The truth is– the best hair care routine for you depends on a few different unique factors.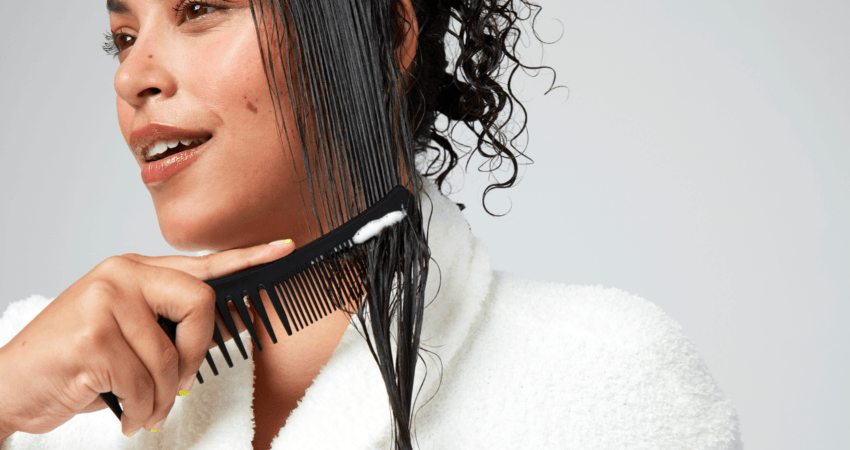 Over the frizz but overwhelmed by the overflow of information out there on the new hottest hair trends? Same girl, same. Keratin Treatment, Silk Press, Hair Botox … Nanoplastia, say what⁉️ The truth is– the best hair care routine for you depends on a few different unique factors. Depending on your hair type, hair goals, and health concerns– one hair care treatment might be the boost you need, over another. At Gussi,  we're the experts on all things At-Home Keratin Treatments – but our research shows a wide variety of different trending treatments this year. In this blog, we'll dig into each to determine the difference between these treatments– and which ones are actually worth the hype. (Spoiler alert: Gussi reigns supreme 🏆)
Keratin Treatment
All Keratin Treatments are not created equal 🙅 Let's first establish all the basics on Gussi's At-Home Keratin Treatment and what separates our formula from the other toxic versions on the market. Gussi's At-Home Keratin Treatment is our award-winning hero product 🏆and has built a cult-like status in the DIY keratin treatment community. Our keratin treatment is for Great Hair + Great Health. Our keratin-packed formula adds an extra powerful dose of non-toxic (formaldehyde- free) keratin that will help your hair become softer, smoother, and less prone to frizz. Gussi's Keratin Treatment is more than just another hair trend, it's a hair movement. 
How Gussi's Keratin Treatment Works: 
Our How-To Page details all of the steps in-and-out for maximum results, but let's run through some of the basics here! Just 5 simple steps deliver up to 6 WEEKS of smooth and shiny strands.
 

Wash. Prior to treatment, wash your hair twice with our Squeaky Clean Priming Shampoo to prep your hair. No conditioning needed afterwards! A quick towel dry and you're ready to go.

Treat.

Shake and apply the

Smooth Operator Keratin Treatment

root to the tip, combing the treatment through each part of your hair. Let the treatment process for 15-30 minutes. 

Rinse.

When the time's up, hop in the shower and lightly rinse using lukewarm water for 30 seconds. Don't overdo it!

Dry.

Towel dry, then blow dry hair completely on medium heat. 

Lock.

Lock in the treatment using Gussi's

Mane Squeeze™ 1" Titanium & Ceramic Flat Iron

(or any other flat iron, but we love ours best).
Yep, that's it!
Unique Benefits of Gussi:
Where do we even begin when it comes to listing the unique benefits of Gussi's At-Home Keratin Treatment!  It delivers long-lasting results just like you'd get in a salon, only done from the ease of your home and for less ⏰ & 💵 We're specially formulated to make all hair types shiny, smooth, and frizz-free for up to six weeks, without any nasty chemicals like formaldehyde! Gussi is committed to using clean, non-toxic ingredients that help make your hair healthier while also looking flawless. Gussi is 100% formaldehyde-free, paraben-free, and phthalate-free– instead packed with hair-loving ingredients like keratin, moringa seed oil, castor oil, soy protein and vitamins! Another unique benefit to Gussi is that instead of having to keep hair stick straight without washing it for days after treatment (like some salon services), feel free to immediately style your hair however you'd like post treatment, hot tools included!
On the lookout for a Keratin Treatment this year? Gussi will NOT permanently straighten your hair, so if that's what you're looking for in a Keratin Treatment, Gussi won't get you the results you desire. Instead of getting rid of your natural curl pattern, Gussi instead smooths your natural texture so you can rock whatever style you want completely frizz-free. You also might be hearing Keratin Treatments getting a bad rap for containing cancer-causing ingredients. That's why we'd be certain to stick to Gussi's formula to ensure there's no nasty chemicals like formaldehyde 🤢 Gussi is setting the standard when it comes to non-toxic, super effective, easy-to-use at-home keratin treatments, though other keratin treatments out there can be potentially harmful. To make sure you avoid these harmful chemicals, stick to using Gussi's At-home Keratin Treatment for your *New Hair, New Me* moment!
Silk Press
What is a Silk Press? A silk press is a non-chemical straightening service that is typically done on curly or coarse hair. To achieve the results of a silk press treatment, the hair is shampooed, blown out, and then "pressed" with a flat iron. The process results in hair with a smooth and silky finish, which is how silk press got its name!
Achieving Silk Press at home is doable, but requires the right steps 📋 and products to get the job done correctly. Let's run through some of the basic steps for achieving maximum results of your at-home silk press.
Shampoo Hair (2x).

It's recommended to wash hair with a clarifying shampoo, then a moisturizing shampoo in order to get your hair thoroughly clean, and extra hydrated. 

Condition Hair.

This is to make sure we're adding as much moisture back into your hair as possible pre-treatment with a hydrating serum as well as a deep conditioner.

Leave-in Conditioner.

Using a leave-in conditioner or oil at this stage will help to add even more moisture back in. 

Blowout Hair.

Blow drying hair out flat is the next step, in order to avoid unnecessary added heat exposure to your hair during the flat-iron stage. 

Straighten with Flat-Iron.

This stage is pretty straightforward for anyone familiar with the process of hair straightening. Section your hair out, and proceed slowly with the flat-iron, pressing the hair until desired straightness is achieved. You may need to repeat this step a few times in order to achieve a completely silky look.

Wrap in Silk Overnight.

It's recommended to then wrap your hair in a silk scarf overnight, in order to extend the results. 
Unique Benefits of

Silk Press
The Silk Press might be the move for you if you're really wanting to try out a sleek, straight haired look. It's important to reiterate that the goal of a silk press is to have extra straight hair! The steps of adding moisture back into your hair before flat-ironing is essential to getting the silky results promised. Straight hairstyles are often lower maintenance when it comes to general upkeep of your hair, and there's tons of styles you can achieve with your newly straightened style! 
The Silk Press hair treatment has a few caveats to consider before diving in. Firstly, many products are needed in order to achieve the desired silky-straightened look. Your hair needs to be prepped adequately before treatment with multiple rounds of shampooing, serums, oils, and leave-in conditioners to make sure that it has the hydration needed to combat all the heat exposure. Silk Press treatments are also very labor intensive, especially if you're trying to DIY this method. Being that a silk press only lasts about 2 weeks (or however long you go in between washes), the time and effort might not be worth the results. Hint hint 😉😉: Gussi lasts up to 6 weeks and you can wash your hair and style it however you'd like during that time! We'd recommend considering some of these before committing to a Silk Press treatment!
Hair Botox
What is hair botox? Hair botox is a deep conditioning treatment that coats your hair fibers with a filler, such as keratin. Just as skin botox boosts the elasticity of your skin, hair botox treatments are said to do the same to your hair. The treatment is said to fill in broken or thin areas on each of your hair strands to make hair appear more full and lustrous. 
A hair botox treatment is essentially deep conditioning treatment that is applied directly to hair (no needles or injections like other forms of botox). You can choose to have this treatment in a salon, or buy the ingredients to apply at home.  
Wash Hair. As with many of the treatments on this list, it's best to begin with clean hair. Shampooing your hair can open your hair cuticles and prepare the strands for conditioning. 
Apply. The hair botox treatment is then applied to the hair, massaging the product on from root to tip, and left on for roughly 20-90 minutes.
Dry and Straighten. The next step is to dry hair completely, then straighten with a flat-iron to lock in moisture for maximum results. 
Hair botox is beneficial for those suffering from common hair ailments like split ends, fine hair that lacks volume or luster, damaged hair, frizzy hair, or those who want hair straightened. Hair botox is known to give your hair extra volume, help with overall hair shine and smoothness, and repair dehydrated hair.
While this treatment technically can be done at home, to get the best results it seems like going to a salon is the best choice for hair botox. A pro stylist has access to more effective products with a more potent form of active ingredients and can tailor the treatment specifically to the client's hair type. Some downsides to hair botox are that it is known to be fairly costly per session in a salon (over $150), making it a less accessible hair treatment on this list. It has also shown inconsistent results, not always working for all people and all hair types. Plus, it is highly suggested that users refrain from using this treatment more than 3 times per year to avoid damaging the health of your hair follicles and  potential hair thinning! All-in-all, if you're going to invest in a costly hair treatment this year, do your research into ingredients and trusted procedures to ensure you'll get the best results!
Nanoplastia
What is Nanoplastia and is it right for you? A Nanoplastia hair treatment contains natural ingredients that restore damaged hair strands at the cellular level, smoothing them and eliminating curls, leaving them smooth and shiny for up to 6-12 months. Nanoplastia treatments differ depending on the brand and salon in question, but typically contain a rather organic formulation of collagen and amino acids. Nanoplastia hair treatments are newer to the hair treatment scene, but were created as an alternative to harmful formaldehyde containing keratin treatments. (Lil' reminder here: Gussi's 100% formaldehyde free 😉)
Nanoplastia treatments are fairly similar to other treatment methods on this list, following these common steps for application. The biggest difference being, Nanoplastia treatments can take a long time to complete. (>3 Hours 😅) Busy gals should for sure take that into consideration!
Wash Hair. 

Dry hair.

Divide hair into small portions.

Treat each segment separately with Nanoplastia treatment.

Wait for one and three hours.

Hair rinse.

Blow-dry Hair.

Flat-Iron Hair.
To help the hair from the inside out, the Nanoplastia formulation is rather organic. Collagen and amino acids make up the majority of its composition. Collagen enhances the texture, and functions as an antioxidant, and the amino acids aid in the production of more keratin to enhance the health of the hair. In other words, it provides similar advantages of a keratin treatment without compromising the health of your hair; as it doesn't contain formaldehyde (just like Gussi 😉).
Though we respect that Nanoplastia is trying to replace formaldehyde-present keratin treatments, we have to be skeptical of some of the negatives. The price of nanoplastia treatments is often very high, ranging from $300 to $800 dollars per session! Plus, after treatment it is possible hair will lighten by 1-2 tones and lose its natural curl.  Additionally, Nanoplastia treatments are not time-sensitive, and can have participants spending much of their day in a salon chair. We know that not all hair-treatment seekers have that kind of time!
Our Conclusions
Now that we've unpacked the difference between Gussi's At-home Keratin Treatment, Silk Press,  Hair Botox, and Nanoplastia – we'd have to say that Gussi's benefits take home the win. We know there's tons of buzzworthy, trending treatments out there flooding your social media feed. Which is why it was important to run this side-by-side comparison. Some stand-out benefits of Gussi's At-Home Keratin Treatment include:
Affordable

: Gussi's

At-Home Keratin Treatment

costs just $65! No need to break the bank in order to achieve next-level hair status. PS - most people can get two treatments from one Kit, up to three if you've got short or very fine hair.

Easy to Use:

Skip the salon,

we made this treatment doable from your bathroom

.

Five simple steps

for

weeks

of great hair. And all you need to complete the Treatment is a towel, some clips, a comb, brush, blow dryer and flat iron (might we suggest our

Mane Squeeze

). 

Quick to Do:

Who's got time to sit for hours with a treatment in their hair? Not us. Roughly 1 hour start to finish for your #gussiUP. That's it! Put on your fave playlist and get ready for some seriously smoothing self-care time.

Long Lasting Results:

Up to 6 WEEKS of your best hair ever, from just one treatment! Hello, endless great hair days. 

Ultimate Styling Flexibility:

Gussi doesn't change your hair structure or damage natural texture, so you can embrace your curls! Immediately after the treatment, feel free to use hot tools to style, wet/rinse hair to get your texture back, put it up in a ponytail, etc! No stick straight hair clones around here. 

Works for Everyone

: Gussi's here no matter your hair type, texture or tone. We're safe for color-treated hair, too!

Ready to see what the hype is all about? Shop the At-Home Keratin Treatment, and be sure to #gussiUP!