Hot Tips for the Perfect Blow Dry & Blow Out
Do you know how to properly blow dry your hair, or are you still relying on the basic technique you used in middle school? Using these blow drying hair tips, you can transform your hair from a tangled mess to looking its best.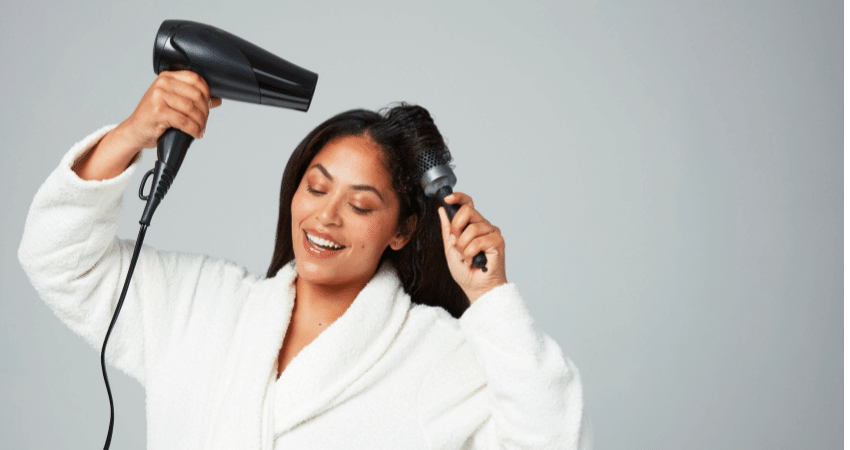 Blow Drying Hair Tips
Tips for blow drying your hair are everywhere. That's great. It's even better to learn how to blow dry hair styles that look good on you. But the best is knowing all that plus how to safely blow dry your hair to keep it in optimal condition.
Blow drying techniques should be specialized for the type of hair you have. What might make straight hair look incredible could leave curly hair looking unruly. Read on for the best blowout for YOUR hair.
Straight Hair
There's a common misconception out there that straight hair requires no effort to style. Ever heard of "straight hair, don't care?" Unfortunately, that's not always true. Straight hair that isn't correctly blow-dried can end up looking limp and lifeless. And no one want that.
You'll want to have a hair dryer with the concentrator nozzle attachment, a wide tooth comb, a hair clip, and a flat brush ready to go. After washing, gently towel dry your hair to help prevent frizz and damage. The wide tooth comb is ideal for detangling wet hair. Apply a lightweight, nourishing leave-in conditioner.
Turn your dryer on to medium heat and high speed and loosely blow dry until it's about 80% dry. Then gather hair on top of your head and clip it. Using your flat brush, start combing out the lower layers of your hair while blow drying it with increased heat, making sure to point downward to avoid frizz.
Then release the remaining wet, clipped hair on top and use the clip to pull the dried hair to the side. Starting at the roots, blow dry the wet hair, gradually working out to the ends. The more air at the roots, the more volume and bounce. Use the brush to pull your hair forward and out for a straight look.
To finish your style, you can choose to roll the ends with your brush while using warm air or brush it straight for an even look. Apply a bit of your favorite hair oil or serum for a glossy finish, then go slay your day, smoothly!
Curly Hair
Of all hair types, curly is the highest risk vs. reward when it comes to blow drying. Using the right products, techniques, and equipment are key to achieving gorgeous, defined curls.
Sulfate-free shampoos and conditioners keep your hair from drying out, which curly hair is especially prone to. Since everyone's curls are different, you can experiment with leave-in conditioners, mousses, and curl-forming gels to find the right combo for you. Properly blow drying curly hair relies heavily on using the right temperature. Keep your hair dryer on low or medium heat and medium speed. Most importantly, put the diffuser attachment on because your new bestie is your blow dryer's diffuser.
Starting at the nape of your neck, put the diffuser up to the roots and begin drying. Gently pull the ends away from the dryer and move your diffuser around until the roots are dry. Blow drying the ends of curly hair leaves you with the frizz you're trying to avoid, so let them air dry naturally. Apply some curl cream to seal in the shine and again help those curls stay hydrated as the day goes on. A hair shake and a smile, and you're ready to bounce.
Frizzy Hair
Are you living proof that frizzy hair can strike at any time? Constantly worried about getting stuck in the rain and your hair turning into a pouf-ball? No longer fear the weather of the five pm frizz-out. These blow drying hair tips are just what you need.
Start by applying a thermal protection cream then letting your hair mostly air dry. If you don't have time to air dry, gently pat it dry with a thin towel before you begin blow drying it. Once it's about 80% dry, section your hair off into four areas: top, left, right, and back. Clips come in very handy here. By sectioning off the hair, you can reach the roots more efficiently, which saves you time and the risk of damaging hair.
To properly blow dry, begin at the roots using medium heat. You don't want to bring the blow dryer too close to your hair as the intense heat can cause frizz and potentially burn your hair. Along with not getting too close, you want to keep the dryer continually moving to avoid overheating. Blow dry with a round or paddle brush in smooth strokes from root to tip of hair. Apply a light mist of anti-frizz oil to seal in the smooth, and tell your frizz to frick off.
Blow Out Hair Tips
You think you just read about that, don't you? There's actually a big difference between blow drying and blowing out your hair. Blow drying is meant to dry and reduce frizziness in your hair. Blowing out hair adds volume and styling without using a flat iron or curling iron.
Follow these simple steps and tips for an at-home blow out that will leave you looking your best:
Use a shampoo and conditioner meant for your specific hair type.
After washing your hair, put it up in a soft, absorbent towel to dry a bit.
Starting from the bottom, gently detangle your hair with a wide-tooth comb. Apply thermal protective cream or spray.
Rough dry your hair on medium heat, keeping some moisture.
Use a hair dryer with a concentrator nozzle attachment and a round brush.
Section and clip your hair into one-inch sections. Begin blowing the hair on medium heat with the nozzle pointed down. Go from top to bottom.
Roll the section of hair you're drying around the brush and apply heat. Leave hair wrapped around the brush until it cools. You can blast it with a cool shot from the dryer to help lock in the style.
Apply any finishing products you prefer.
You Have All the Hot Tips, Now What?
So you've mastered the blow dry and the blow out, time to take your hair to the next level. Take your hair to the next level with a salon-quality at-home keratin treatment. Gussi's A-home Keratin Treatment Kit leaves your hair smoother, silkier, healthier, and frizz-free for six weeks without the time and cost of professional treatments. Even better, one treatment gives you weeks on end of shorter blow drying time - up to 30% less time needed! What are you going to do with all that extra free time now? 
Goodbye Fussy, Hello Gussi
Gussi's At-home Keratin Treatment Kit makes life easier while giving you a look you want without damaging your hair. Our products are made without formaldehyde, parabens, or phthalates to keep your hair healthy and gorgeous. Even better, when you #GussiUp you can style your hair any way you want. Seriously, whatever style you choose. So grab your Gussi and your blow dryer - you're now ready for endless good hair days ahead.