Spring Showers Bring Humidity: Fight the Frizz
Don't let your Spring hair goals become a bust because of the humidity. You can't control mother nature, but you can take actions to prevent the dreaded overly frizzy hair.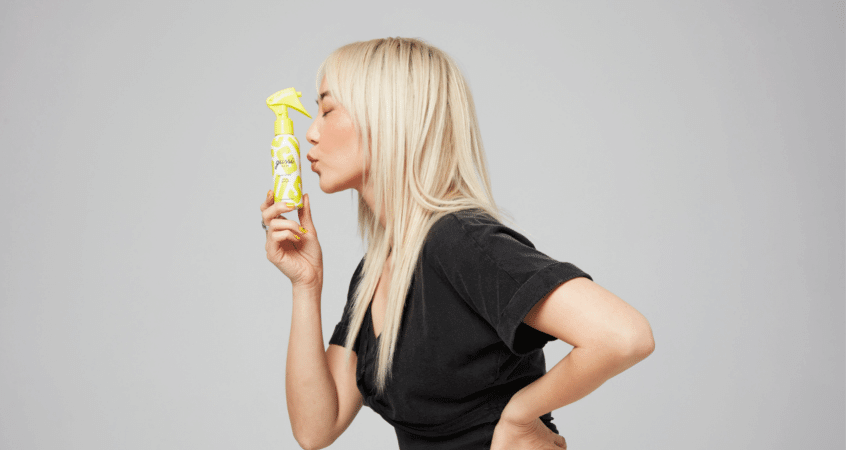 Don't let your Spring hair goals become a bust because of the humidity. You can't control mother nature, but you can take actions to prevent the dreaded overly frizzy hair. Frizzy hair occurs as a result of dry hair soaking up moisture from the air around it. Humidity breaks the hydrogen bonds, causing hair to swell a little bit which makes it wavy or frizzy when it dries in its new shape. Humidity can especially affect people who straighten their hair often or who have naturally textured and curly hair.
4 Steps To Prevent Frizzy Hair from Humidity
Don't let the humidity stop you from getting outside to shake off those Winter blues. Spring is all about keeping hair hydrated and getting the best anti-frizz products that work for your hair type. Prepare for any upcoming frizz forecast by practicing the following:
1. Keep hair moisturized
Frizzy hair is often a result of dehydrated hair, which is why moisturizing your hair is a high priority. Anti-frizz products with natural oils like coconut oil,  castor oil, and argan oil are some of the best moisturizers due to their ability to deeply condition the scalp and strengthen hair follicles by sealing the moisture of your hair. Another great way to make sure your hair is moisturized is by drinking more water. Drinking water is beneficial for most organs in the body, and that includes hair and skin! If you drink about a glass of water every hour, you'll notice major results in your hair texture. Keeping your hair moisturized helps your hair build up a protective layer and be less prone to frizz when facing the humidity. Plus it helps give extra glowing skin, and we all love that! So fill up that giant water bottle and get to sipping.
2. Use the right shampoo and conditioner
The secret to healthy hair lies in the products you use on your hair, and the products you likely use most often are shampoo and conditioner. Many shampoo and conditioners contain chemicals like sulfate, which while deeply cleanses, can dry out hair and in some cases  even cause hair loss. Gussi's Protection Plan™ Upkeep  shampoo and conditioner don't have any sulfates or other nasties. We focus on clean beauty ingredients like hydrolyzed keratin, soy protein, and many natural oils that help hydrate your hair rather than those commonly used harsh chemicals. Keratin is a key ingredient in all Gussi products for a reason. It builds up a protective layer on the hair follicles that strengthens and moisturizes, while also boosting shine. On top of that, we use hydrolyzed soy protein that is packed with antioxidants that help to mitigate damage from bleaching and styling tools. Both our Shampoo and Conditioner are sulfate-free and paraben-free, which further ensures the hair does not get stripped of much-needed moisture.  For more info about the deal with sulfates, check out our blog post!
3. Wash your hair less frequently
Does overwashing hair cause frizz? It sure can! Washing your hair is important (and especially important to use the right products when you do wash it - see point above), but overwashing can do more harm than good. Overwashing doesn't allow your natural oils to be absorbed by your hair, so it's missing out on essential moisture to keep it shiny and frizz-free. If you're overwashing your hair plus using the wrong shampoo and conditioner, your hair will not survive the Spring humidity. Might we suggest waiting a few extra days in between washes by trying out some dry shampoo or throwing on a fun bucket hat?
4. Add back in proteins and vitamins
Your hair is naturally made up of a protein called keratin. When your hair is curly or damaged from heat tools (and really, whose hair isn't?), adding in more keratin can help to reduce frizzy hair since it helps strengthen the strands and avoid any more breakage, damage, and shedding. That's where we come in. Gussi's at-home keratin kit give you that much-needed extra boost of keratin, while also adding frizz-fighting oils and vitamins that help hair to retain moisture and improve the texture of damaged hair. Get frizz-free hair for up to six weeks, in one easy DIY home treatment, without having to step into a salon. With our at-home kit, you know your hair won't be exposed to any harmful ingredients like formaldehyde, and better yet it's going to get a majorly smooth glow up thanks to hair-loving ingredients like castor oil, moringa seed oil, and vitamins like B3, C, B5, B6, E.
Say goodbye to the frizz forecast and say hello to shiny, smooth hair for up to six weeks. All hair types can benefit from our keratin treatment, as it doesn't break your natural hair bonds, but leaves you with an effortlessly smooth texture. Don't be afraid to let your hair down this Spring, but don't take our word for it - these before and after results speak for themselves! Show us how you're rocking your perfect-in-any-weather hair by tagging us on social with #gussiUP. Here's to a super smooth and shiny Spring!