Gussi's Fave Holiday Hairstyles
Calendar booking up with family affairs, cocktail dates,  festive brunches, office celebrations and dinner parties? 'Tis the season for holiday EVENTS. Get your outfits, gifts and most importantly hair ready for the social circuit (and all the selfies that go with it).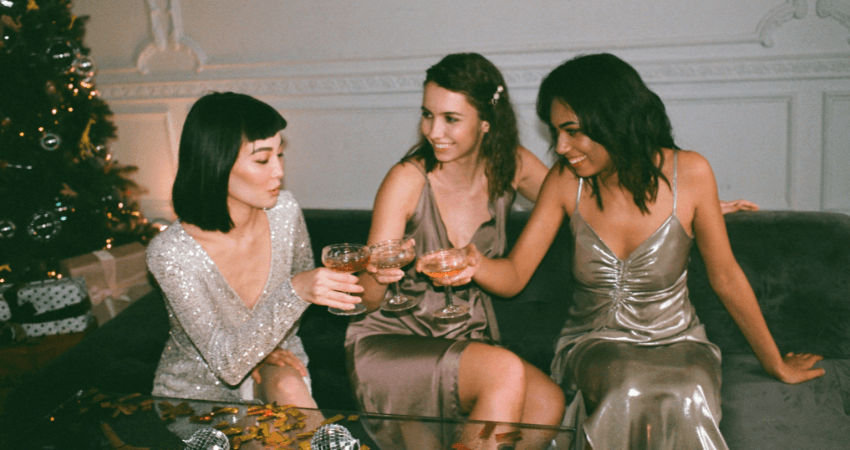 Calendar booking up with family affairs, cocktail dates,  festive brunches, office celebrations and dinner parties? 'Tis the season for holiday EVENTS. Get your outfits, gifts and most importantly hair ready for the social circuit (and all the selfies that go with it). No time for the salon? Want to  nail that show-stopping holiday look on a budget? Don't sweat it– Gussi's got the lowdown when it comes to DIY-ing your holiday glam, perfect for those who are looking to take holiday hairstyling into their own hands.

So what's on the hair-menu this year? Whether you're looking for jaw dropping volume & curls or something low maintenance & chic, Gussi's compiled a list of inspo-worthy holiday hairstyles that will have your party guests (red &) green with envy. If you're on the hunt for easy, on-trend, and simply fabulous  holiday hairstyles, you've come to the right place. (Oh, and FYI– treating your hair to some At-home Keratin love before you style will have your locks on another level this December. Not to mention when you #gussiUP, you're cutting down on blowdry time, leaving more time for stylin' and partyin' for the weeks of your Gussi treatment duration).
Stunning Christmas Hairstyles
We're all familiar with decking the halls for Christmas spirit, but having an excuse to deck out our glam is another big plus. No matter what holiday traditions you're celebrating this year–be it Christmas, Hanukkah, Kwanzaa or any other– we can all agree holiday hair is such a fun way to explore elegant looks with a fun and flirty modern twist. These hairstyles are perfect for showing off your gorgeous locks in sexy-sleek fashion! Elevate your look this season with one of these timeless holiday hairstyles! If the winter-time is taking a toll on your hair's luscious shine, fear not! Gift your hair the gift of Gussi's At-home Keratin Treatment before you style some of these lustrous looks, to ensure your smoothness, softness, and hydration is on point this holiday season. 
 Slick High Pony
 Festive Braids
 Romantic Low Bun
Hairstyles for the Office Party
Pop open the slack chat:  office holiday parties are  right around the corner! The tricky part about work events  is nailing a look that  keeps things profesh, but still flaunts your amazing individual style. Keeping things sleek, tucked, and put-together is the perfect way to add your personal flair, while staying water-cooler classy. Check out some of these hairstyles for the office party, certain to make the perfect kind of splash this holiday season.  
 Loose Top Knot with Face Framing Tendrils
 Knot Bun
 Bubble Ponytail
Holiday Hairstyles for Every Length
Short hair, long hair, medium hair– there's a stunning holiday hairstyle for every length this season. Whether you're rocking a fresh new short-style, medium length excellence, or long hair don't care vibes– glamming it up yourself this holiday season is as easy as 1-2-3. Plus, treating your hair to an added boost of nourishment will help to ensure that no matter your hair texture, length, or styling preference, your hair will be giving the absolute most at every holiday event (even if that's cozy hot cocoa night on your couch). Gussi's At-home Keratin Treatment ensures shiny, frizz-free hair for up to six weeks! Might we suggest you  #gussiUP as to  guarantee you'll be ringing in the new year with the smoothest and softest hair you've ever had! No matter the length, Gussi's At-home Keratin Treatment will boost your locks right through the New Year. So let's run through some of our favorite holiday hairstyles for every length, perfect for DIY-ing your hair style this season. Party on, girl!
 Softly Textured Bob
 Side Swept Braids & Waves
 Double Headband
Easy Holiday Hairstyles
Okay, let's be honest– our favorite looks this holiday season are the hairstyles that *look* straight out of the salon, but in reality were suuuper easy to put together in the comfort of our own bathroom pre-party. For that reason, we're including in this list some of our favorite easy holiday hairstyles for the gals that want to look the part, but don't have hours on end to spend dolling up their hair for every holiday party. Also, if you're pressed for time when it comes to hairstyling this year– we highly recommend our newest addition to the Gussi fam– our Mane Squeeze flat iron, perfect for helping to achieve smooth styles from stick straight to soft waves to voluminous curls.  Mane Squeeze does it all, while fully heating up in under 60 seconds. Yep, you read that right. Not to mention, with just one easy pass this tiny-but-mighty hairstyling tool creates long-lasting results thanks to its dual power couple of titanium plates plus ceramic heater! All of these stellar features add up to make this hairstyling superhero the perfect companion to achieving these easy holiday hairstyles. 👯 Match made in heaven? Yep, we think so.
 Half-Up / Half-Down
 Holiday Bow-ment
Hairstyles for New Year's Eve
NYE parties are for serving ultimate glam– you've got it, now let's flaunt it! It's time to show off all you're rocking as we wind down 2022 and party our way into 2023. You've got the fit, the accessories are on point, the shoes are styled, the lippies on and the liner's tight– but what about the hair? The New Year's Eve hairstyle has got to deliver 💯– whether your look is going for elegance or just full-on party mode, these hairstyles for New Year's Eve have a little something for everyone. Plus, if you're in need of a hair-styling upgrade– Gussi's newest addition to our hair-pro-at-home lineup is just the tool for you. The Mane Squeeze flat iron is your next ride or die styling superhero. Perfect for achieving any and all super-fab hairstyles for New Year's Eve– be it curly, straight, decked out, or toned down! Now, let's get to glamming.
 Bombshell Waves
 Big Bouncy Curls
 High Volume Ponytail
Glamming it up this holiday season is something many of us look forward to all year long. This time of year is simply the best, with party after party, gorgeous dinners, and gathering with friends + fam. There's no better way to celebrate than to make sure your holiday hairstyles bring the noise, just like you do. So get your party-on this holiday season, and get inspired by one of these holiday hairstyles easy to achieve right in the comfort of your own home. Pair it with the stunning results of the Gussi At-home Keratin Treatment + styling superpowers of the Mane Squeeze flat-iron for ultimate results! Just looking to shop the full lineup of Gussi's hair-loving products? Get the full-rundown on our Holiday Gift Guide for the 2022 holiday season.