Gussi Holiday Gift Guide 2022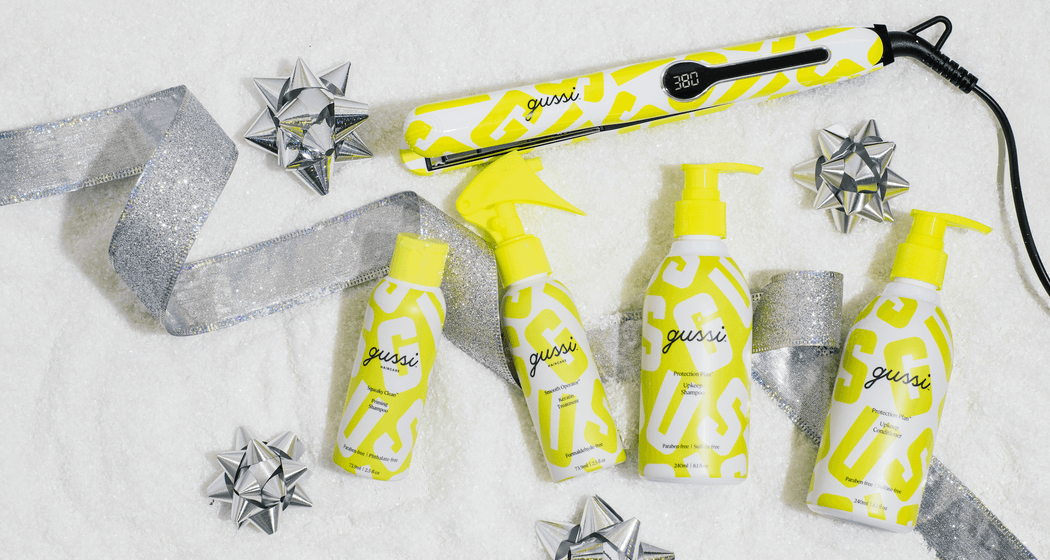 Who doesn't love the holidays? Comfy pajamas + holiday classics streaming on the tv + hot cocoa + delicious smells coming from the kitchen = true bliss. On top of that – we get to show all our friends & fam  just how much we appreciate them with fabulous gifts they'll love year round. Maybe you're having a little trouble this year coming up with gift ideas for the beauty lover in your life, your curly haired bff, or beauty gifts for mom she'll actually use and enjoy. Look no further, secret Santas. Gussi's selection of hair products and accessories make for legendary hair gifts for her (or him!)– trust us. When your crew's rocking vibrant, luscious locks all through the cold winter months, they'll be thanking you over and over. Let's run through the 2022 Gussi Holiday Gift Guide, and find the perfect gift for the hair aficionado in your life.
Gussi's At-Home Keratin Treatment has benefits for every giftee in your lineup this year. Maybe she's rocking thick luscious curls, a killer straight hair mane, has a fully packed schedule, a new baby, or the most impressive self-care routine– there's a Gussi for every gal in your life. Let's dive into (some of the many) reasons why giving the gift of DIY (clean!) Keratin is certain to *wow* your besties this holiday season. 
The Perfect Gift for Curly Hair Beauts (& Straight-Hair Manes, Too 😉)
What makes Gussi's At-Home Keratin Treatment the perfect gift for curly haired babes in your life? Unlike the other Keratin Treatments on the market (that zap curly hair of their coveted texture and are choc-full of harmful ingredients like formaldehyde 🤢), Gussi's At-Home Keratin Treatment is 100% formaldehyde free and non-toxic, allowing hair to maintain it's curly vitality post-treatment! Give the gift of powerful long-lasting smoothing, without sacrificing any of that unique, curly hair shape. 
Maybe your giftee has straight locks… will Gussi's At-Home Keratin Treatment still make for an excellent gift? Absolutely. All hair types (even fine & short hair) benefit from Gussi's nutrient-rich Keratin Treatment– who doesn't love an added boost of hydration, strength, and undeniable SHINE. Not to mention, this expert level formula is easy to apply right from the comfort of your own bathroom.
Exactly What the Busy Babes Need
Does the overachiever in your life have waaay too packed of a schedule to hit the salon on the regular? Give the gift of Gussi's At-Home Keratin Treatment to the busy gal in your life, and let her experience salon-level treatment from the comfort of her own home - and on her own time. One of the biggest benefits of Gussi's Keratin Treatment is it's literally so easy to apply (we promise) & cuts down on drying time by up to 30% – even the busiest babes can fit our at-home smoothing system into their schedule. Remind her she's more than welcome to multitask during the processing time. 
Gifts for the New Mom Who Deserves Major TLC  
When it comes to new moms– we all know how much they appreciate any moments of pampering they can get. And who deserves pampering more than a new mommy?! Postpartum hair can sometimes be a struggle, which is why Gussi is the perfect way to add extra nutrients to the hair without causing any damage! Give the gift of the Gussi At-Home Keratin Treatment to the new mom in your life– and let her experience the joys of weeks worth of frizz-control and shine from just one treatment. We bet she's not gonna say no to a little alone time to #gussiUP ! Plus – using the At-Home Keratin Treatment cuts down blow dry time by up to 30%! More minutes of her day back in her pocket– what mom's going to say no to that?!
Can new mom's use Gussi's At-Home Keratin treatment while breastfeeding? It's important to keep in mind that Gussi is formulated without any formaldehydes or dangerous chemicals, though, to be extra safe, we always recommend double-checking with your physician for a professional recommendation before you begin your smoothing treatment.
Surprise & Delight the Self-Care Lover 
Calling all self-care stars! Whether you're gifting to the self-care aficionado in your life, or maybe you're stuffing your own stocking with some love this holiday season – the Gussi At-Home Keratin Treatment is the perfect hair-loving gift for those looking to *DIY* their self care this year. When it comes to self-care routines, ingredients matter. We know you have zero room for toxic, questionable, or dangerous ingredients in your routine. That's what makes the Gussi At-Home Keratin Treatment the perfect gift for the self-care pro.  Treat yourself to this pampering formula, and give the gift of extra hydrated hair health this holiday season with this non-toxic, easy to use, long-lasting treatment. Now get to gifting!
Stocking Stuffer Gift Ideas for all Manes
Ohhh, so you've got a cosmo connoisseur in your life in need of unique stocking stuffers this holiday season. We know beauty experts can be challenging, with all of their product knowledge and seemingly endless collection. What stocking stuffer ideas for her will *wow* as she peers into her stocking this holiday season ? Look no further than the Protection Plan Upkeep Shampoo & Protection Plan Upkeep Conditioner. Beauty lovers will revel at this clean and sulfate-free wash day power couple.  Formulated with powerful keratin and proteins, this super hydrating keratin-infused shampoo & conditioner offers the perfect 1-2 punch. The beauty lover in your life will be suuuper impressed with this epic shower stocking stuffer this holiday season, whether she uses it to prolong her Gussi treatment results or just for a daily shot of smooth. No better feeling than nailing the perfect present!
Ultimate Beauty Gifts for Mom
The votes are in & the score is unanimous – Mom deserves it all. She's the superwoman in your life– always giving, always supporting, and always putting everyone else first.  This holiday season, find the best beauty gifts for mom that she'll actually put to use, and benefit from year round. The Gussi Bundle makes for the perfect beauty gift for mom, as this all encompassing haircare investment will boost her hair health, vitality, and shine. 

The Gussi Bundle includes all of the essentials – the Protection Plan Upkeep Shampoo, Protection Plan Upkeep Conditioner, *and* The At-Home Keratin Treatment. Major savings for you, while giving Mom the gift of her best hair ever- with long-lasting results she'll covet through the holidays and beyond. That's right. All that hair love, one unbeatable bundle. Perfect for mom, who truly deserves it all this holiday season. Bonus tip: if Mom's going gray (We love a little salt with our pepper 😉) this gift will truly hit the mark– as Gussi's trusted formula will give her gray's the added boost of hair strength, hydration, and volume she may be missing if she's struggling with any unwanted brittleness or frizz. Give Mom the gift of the healthiest hair on the block with the Gussi Bundle this year.
The *Newest* Addition to the Gussi Gang: Mane Squeeze™ Flat Iron
Hair Styling Gifts for Any Texture & Type
Hair styling gifts go a long way, especially when they're as versatile and essential as the newest addition to the Gussi lineup: Mane Squeeze 1" Titanium & Ceramic Flat Iron. The perfect hair accessory this holiday season– guaranteeing long-lasting results, flawless easy styling, and precise heating temperature selection. Hair styling gifts are a perfect choice for the glam girl in your life– the one who's always leveling up her beauty routine and never leaves the house without a flawless fit. 
Gussi's taken the flat iron game to the next level. Your giftee will adore unwrapping this luxe hair accessory– outfitted in a beautiful, giftable box that will look decadent under the Christmas Tree this year. Not to mention, once she starts using this beautifully designed hair styling tool– whether straightening, waving, curling, or smoothing – she'll be blown away by the professional level results from such a small–but mighty tool. This is the ultimate hair accessory to lock in Gussi's At-home Keratin Treatment AND for all styling needs. Plus, this styling superhero includes a protective heat-resistant mat for easy usage, storage & portability.
Purchase Gussi's Mane Squeeze™ and gift your loved one (or yourself!) the ultimate powerful (and adorable!) hot hair tool.
Dying for more deets about the Mane Squeeze? Here's some of our fav specs from this small but mighty flat iron: 
Sleek 1" floating flat curve plates that adjust to hair density and  provide easy glide for even smoothing & snag-free hairstyling.

Made from high quality titanium,  ensuring uniform temperature across the wand, while a ceramic heater provides consistent heat- creating a dynamic duo for one-pass styling on all hair types.

Fully heats up  in under 60 seconds - she's speedy!

Features a digital interface with temperature control from 330° to 420°  in 10° increments for precise heat selection & the most effective results for your hair type.

Concerned about burns? Fear not! The protective rounded cool touch tip makes for a safe, easy grip & ultimate styling flexibility.

1 hour auto smart shut-off so you never need to ask "did I leave my iron on?" (plus no wasted power).

The 360° swivel 9ft. professional-grade cord plus hanging loop keeps things neat and tidy – no messy vanity here! 

Dual voltage so always jet-set ready.

1 year warranty, because we got your back.

Includes a protective heat-resistant mat for easy usage, storage & portability.

The holidays are here! Time to get to gifting. Shop Gussi's selection of hair care products and hair accessories for all your beauty gifting needs. From gifts for the beauty lover, beauty gifts for mom, or gifts for curly hair babes in your life – Gussi's collection has enough hair love for everyone.