Got Keratin Questions? We've Got Answers!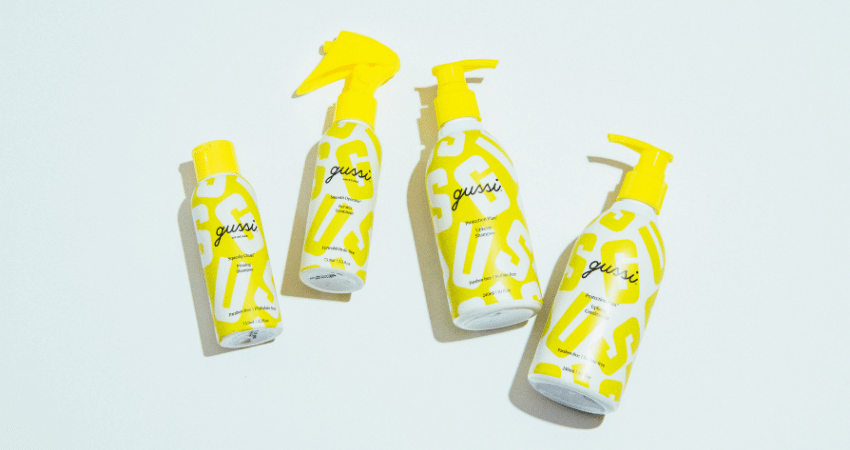 With the information overload we face on the regular, it's no wonder so many people have questions regarding the reality of keratin hair treatments. What is a keratin hair treatment, actually? How long does a keratin treatment last? And the biggest question of all, is a keratin treatment good for your hair? At Gussi, our commitment to safe, effective ingredients plus easy at-home use sets our at-home keratin treatment apart from the pack. Let's run through the most common questions asked about keratin treatments and debunk these common keratin myths once and for all. 
What is Keratin?
Keratin is the HBIC of all proteins–acting as an essential structural building block, boosting your hair, skin, and nail health from the inside out. All of our bodies naturally produce keratin– so when you use Gussi's At-Home Keratin Treatment, you're boosting your hair's keratin content, increasing the positive properties this powerhouse protein has, i.e. hair fullness, shine, and smoothness. 
What is a Keratin Treatment?
A keratin treatment is a process that restores keratin into your hair cuticles and shafts, making up for the natural loss of this vital building-block protein. The goal of a keratin treatment is to allow your hair to look shinier, smoother, and more frizz-free than it would naturally. While people often associate keratin treatments with hefty prices, mandatory salon visits, and only stick-straight hair, Gussi's At-Home Keratin Treatment won't break the bank and is super easy, even for the most novice at-home beautician. It works on all hair types and allows you to keep that beautiful natural texture, if you want to! Not to mention,  100% formaldehyde & cruelty-free. Big wins all around.  
How Much is a Keratin Treatment?
One of the biggest concerns for hesitant first-timers is the expense of in-salon keratin treatments. Dropping $100-$500 (the average cost range of one in-salon keratin treatment in the U.S.) can feel extreme, we get it. That's why our At-home Keratin Treatment Kit is so cost-effective at only $65 USD - and many users are able to get more than one treatment out of the kit. We wanted to ensure that every hair lover could afford the power to take their hair health and styling into their own hands! 
Is Keratin Treatment Good for Hair?
Gussi's At-Home Keratin Treatment prioritizes you and your hair's health above all. That's why Gussi is created 100% formaldehyde free, as opposed to many in-salon treatments that do contain formaldehyde. (BTW - formaldehyde is a known carcinogen that's banned from beauty products in many places around the world such as the European Union, Canada, and Australia). We cannot speak to the health and safety of other keratin treatment brands, but we can say that the ingredients and means of production in all Gussi products are of the highest quality, safe, and completely cruelty-free, not to mention proudly made in the USA! Our At-Home Keratin Treatment replaces lost keratin in your hair, helping your hair grow longer and making it stronger and less prone to breaking, while also sealing up split ends and adding smoothness and shine.
What is Keratin Made Of?
Keratin, like all proteins, is made up of amino acids that aid in the characteristic resilience of this vital component. Four extraordinary amino acids within this lineup are Lysine, Cysteine, Arginine, and Methionine. The integumentary (hair, skin, and nail) system depends on this crucial protein's structural stability, allowing for collagen-dense, anti-oxidant properties to exist within your hair and skin. Keratin's amino-acid makeup allows for the strong, healthy, shiny hair you love so much.
Can You Do Keratin Treatment At Home?
With the Gussi At-Home Keratin Treatment, absolutely! There's no greater flex than the feeling of achieving salon-level results at home, for a fraction of the cost. Gussi makes the at-home keratin treatment application a breeze. With easy-to-follow instructions, and safe, cruelty-free ingredients, you're destined to get the unbelievable results you're searching for, without ever having to leave your home!
How to Apply Keratin Treatment at Home
For Gussi's At-Home Keratin Treatment, we've made the steps as easy as 1-2-3-4-5. (Wash, Treat, Rinse, Dry Lock) Plus, most of the tools needed to apply the treatment you'll likely find in your bathroom already. A towel, plastic comb, brush, blow dryer, and flat iron is all that you need to get your Gussi treatment underway.  Even if you're a first-timer, these easy-to-follow instructions and uncomplicated directions are accessible for any at-home hair stylist of all skill levels. It's so easy, even our moms can do it - we swear.  What are you waiting for?!
Do Keratin Treatments Damage Hair?
On its own, a keratin treatment won't cause damage to your hair when applied according to our easy-to-follow instructions and maintained properly. When you're blow-drying or ironing your hair to set the treatment, we recommend taking extra precautions to ensure perfect results every time! Be sure to not overheat your hair, as too much aggressive heat after keratin application can alter the results. Stick to our "How-To", and you'll have perfect results every time, with lush, healthy hair for weeks on end. 
How Long Can You Leave Your Keratin Treatment In For?
At-home Keratin Treatments with Gussi are a breeze– only needing to be left in for approximately 20 minutes depending on your hair type! No more sitting for hours at the salon. The Gussi At-Home Keratin Treatment is as quick as it is easy. For most users, the whole process can be done in an hour from start to finish!
What Can I Do To My Hair After a Keratin Treatment?
Gussi's At-Home Keratin Treatment isn't like the other treatments out there. Right after "locking in'' your Gussi Keratin Treatment, you're free to do as you please with your luscious locks! While other keratin treatments may set harsh restrictions– with Gussi, the list of "Do's" far outweighs the "Don'ts"!
After Gussi Keratin Treatment Application You Can:
Style your hair - heat, braids, anything!

Dye your hair

Get a sweat in 

Whatever else has your hair and self-feeling confident and fabulous!
Will Sweat Ruin A Keratin Treatment?
Nope! Gussi's keratin treatment is sweaty workout-ready. As soon as your keratin treatment sets with the flatiron, you're all set too. The only other thing to keep in mind is that sweat can occasionally make hair want to frizz up more. So, whenever you may be breaking a sweat post-treatment, we recommend simply braiding your hair into a chic ponytail or tight bun to keep it off your face. Easier to get your gym groove on that way, too.
Can I Dye My Hair After A Keratin Treatment?
Of course! The keyword here is *after* – Dying your hair post- keratin treatment is totally fine! As we've discussed, Gussi isn't like the other keratin treatments out there. You're free to color your hair after your keratin treatment, so long as you've followed the instructions properly, your results will continue to shine! If you have recently colored your hair, we do recommend waiting until you have reached the 5-wash mark after your color service to use Gussi. That way you can ensure your color is locked in, and your hair is in optimal condition for a keratin boost!
Are Keratin Treatments Safe?
Gussi's At-Home Keratin treatment is in fact, totally safe. While other keratin treatments can contain formaldehyde, which can be extremely harmful, Gussi's keratin treatment is 100% formaldehyde free, plus it's safe for furry friends since it's certified cruelty-free by both PETA & Leaping Bunny organizations. What we're basically saying is,  hair has never had it this good! So when deciding on an At-Home Keratin Treatment, stick with Gussi for a 100% safe and effective treatment method. 
What Shampoo To Use After Keratin Treatment?
Using the wrong products post-keratin treatment can change your results from 'YAS!' to 'meh' in an instant. That's why Gussi created the Protection Plan Keratin Infused Shampoo for all of your post-keratin treatment maintenance needs. Prolong your results with this ultimate upkeep keratin-infused shampoo. If you don't want to use Gussi, we won't be THAT offended - please just ensure you choose a high-quality, sulfate-free option.
How Long Does Keratin Treatment Last on Curly Hair?
You can expect your at-home keratin treatment to last up to six weeks, depending on environmental factors and how well you maintain the treatment. As we said earlier, being intentional about your personal hair maintenance efforts can make all the difference. A keratin treatment every few months will have you covered.
Can I Do Keratin Treatment While Breastfeeding?
Gussi is formulated 100% formaldehyde-free, and contains zero dangerous chemicals, though, to be extra safe, we always recommend breastfeeding moms, or expecting moms to double-check with their physician for a professional recommendation before you begin your smoothing treatment.

For more information regarding Gussi's At-Home Keratin Treatment, or other products, head on over to our FAQ page! We love seeing your results post-keratin treatment, so be sure to follow us on social media (@gussihair), and tag us in all of your selfies with #gussiUP!