Protecting Hair from Summer Damage
Summer is practically synonymous with carefree fun: sunkissed skin, long days at the beach, breezes at your back, sunset happy hours, and hot nights out. It's time to let your hair down, step out in your freshest looks, and let the warmth of the sun remind you why this is indisputably the best time of year.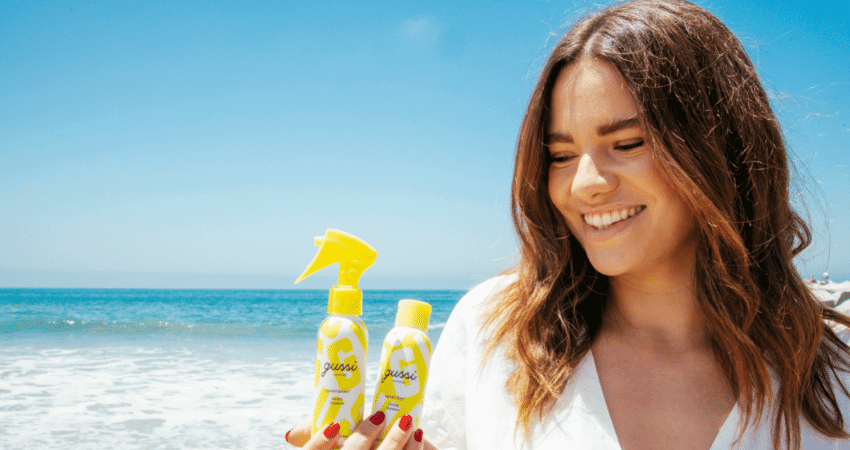 Keeping Hair Healthy Through the Summertime
Summer is practically synonymous with carefree fun: sunkissed skin, long days at the beach, breezes at your back, sunset happy hours, and hot nights out. It's time to let your hair down, step out in your freshest looks, and let the warmth of the sun remind you why this is indisputably the best time of year. But just one sec – not to put a downer on things, but before you take that next salty plunge in the pool or roll the top down for some extra vitamin D, remember that it may have some not-so-stellar side effects on those gorgeous locks you've grown to love. 
We hate to say it but we have to: UV rays, chlorine, and saltwater are bad news for your hair– and it's best to keep a sharp lookout for them, especially during hot summer days. Read on for some FAQs about how each element can cause potential damage, and how you can protect your hair this summer season.
Can UV Rays Damage Your Hair?
It's hard to associate the sun with anything but good vibes. After all– clear skies, warm temps, and that first summertime tan are part of what makes summer so awesome, right? So, how can the sun damage your hair? And why is your hair not as big of a fan of the sun as you are? 
Let's think for a sec–an essential step in every skincare routine is SPF application. Few would venture out in the summer sun without making sure their skin was sufficiently lathered in their sunscreen of choice, since the effects of UV rays on our skin are common knowledge. Well, your hair needs protection from the sun too! Just as skin can get dehydrated and stripped of its youthful properties through bare sun exposure – the side effects of UV rays on your locks can be just as detrimental. 
UV rays from the sun can increase dehydration and permeability of your locks, causing the natural color of your hair to fade. Excessive exposure to the sun can also cause your hair to lose its sheen and gloss. Ironically, while a day on the beach can leave you feeling completely revitalized, it may cause your hair to lose a significant amount of its vitality. Oh no!
How To Protect Hair From Sun Damage
Let's face it, all we really want to be rocking in the summer is our favorite swimsuit and a cocktail to match. But before you head outside to soak up the sun, make sure you pack a hat, bandana, or large silky scarf along with you. Hair wraps and bucket hats are some of the cutest must-have accessories for beach or pool-side hangs, and you can't beat a classic baseball cap style for hiking or other action-packed outdoor adventures. Hair accessories like kerchiefs or wide-brims are the perfect accessory to give your summertime fit the perfect pop of personality AND sun safety. They'll be working double-time to keep your hair stylishly snug and comfortable while protecting your scalp and locks from the sun's harmful rays.
Beyond always covering up in the sun, also help your hair out with frequent use of hair masks and deep conditioners. Gussi's Keratin-Infused Conditioner is the ultimate boss when it comes to daily nourishment to keep hair refreshed, repaired, and protected. Our super hydrating conditioner will kick those dehydrating beach days goodbye, ensuring only the magical memories remain. For an extra shot of deep hydration, apply our Conditioner throughout  wet hair at night, wrap it up in a bun, sleep on it, then rinse it out in the morning!
How To Treat Sun-Damaged Hair
The biggest bummer for your luscious locks when it comes to overexposure to the sun is that UV rays can cause hair thinning, brittleness, or even hair loss. Eek! A regular moisturizing regimen is essential for sun-damaged hair because reinvigorating your strands with moisture post-sun exposure will help to counteract the dehydrating effects the sun has. 

Luckily for you, Gussi's got you covered when it comes to rehydrating your hair post-sun exposure, so you can focus on what matters most– making memories and catching a tan. Good vibes only, right?! By using Gussi Keratin-Infused Shampoo–formulated with powerful keratin and proteins, paired with the Gussi Keratin-Infused Conditioner we've created the ultimate hydration 1-2 punch. Add this duo to your regular hair care routine for the ultimate moisture booster and protection that will have your hair looking thick, shiny, and flawless!
Is Saltwater Bad For Your Hair?
Beach days and salty ocean swims are some of our favorite activities during summertime. But how does saltwater interact with our hair after our deep dives? Like anything, saltwater's effects vary depending on hair type and the extent of exposure. 
For some, saltwater may have milder effects on their lovely locks– ranging from subtle dehydration to temporary brittleness. We've all experienced post-beach hair effects: greater volume, waviness, or even straight-up frizz.  For others (particularly those with chemically altered or treated hair), the cons of saltwater can be a dealbreaker– often making hair extremely dry and susceptible to breakage. No thank you! 
Ultimately, saltwater isn't bad for your hair when exposure is moderated and proper aftercare steps are taken. Let's deep dive into what you can do to combat hair dehydration from saltwater exposure, Gussi style!
How to Fight Hair Dehydration from Saltwater
The verdict is in: the sooner you can wash your hair with a freshwater source after exposure to salt water, the better! Even using a water bottle to give a quick rinse on the beach helps your hair rehydrate and reduce the aftereffects of excessive salt in your hair and scalp.
Better yet– toss the Gussi Upkeep Conditioner in your beach tote and give your hair a rinse and condition post-ocean plunge. Comb the conditioner through your hair evenly to give that added boost of hydration– helping to restore the pH levels of your hair, reducing the salt content leftover, and adding just the right amount of supple hydration to make sure your locks dry hydrated, and strong– just the way we like 'em. 
Does Chlorine Damage Hair?
Before you dive headfirst into that crystal-clear, azure-colored pool– take a moment to consider the effects of chlorinated water on your hair. Swimming pools typically contain chlorine, great for keeping pools sanitary but super harsh when it comes to our delicate locks. 
Chemicals in chlorine strip hair of their natural oils, targeting the protein that naturally makes up our hair (otherwise known as keratin!). In addition, chlorine can dissolve lipids in hair which are responsible for hair hydration, gloss, and manageability. Static electricity, split ends, and hair frizz are all common side effects of lipid-deprived hair. We hate the sound of that!
We're big fans of gorgeous, refreshing pool plunges in the summertime– so how do we avoid all of these pesky side effects and enjoy our poolside hangs in peace?! Read on, bestie. 
How To Fix Chlorine Damaged Hair
The good news is that chlorine-damaged hair is not quite beyond repair. To minimize the damage caused by chlorine, we recommend one of our fave Gussi insider hacks. The Gussi Squeaky Clean Priming Shampoo that comes in our At-Home Treatment Kit does wonders in ridding your hair of excess chlorine buildup. Rid your hair of those pesky chemicals and swim in peace, knowing your post-pool locks will be just as flourishing and fabulous as they were before you dove in. 

Establishing a deep conditioning routine for your hair post-pool is the next step in ensuring that chlorine has limited side effects on your hydrated hair. We love our Keratin Infused Conditioner as the perfect poolside companion, helping to ensure that keratin levels, pH balance, and hydration levels are all restored and protected while your hair dries down after your swim. Rinse hair with fresh-water first, then comb the conditioner through your hair as an added layer of protection and hydration while your hair dries.
Looking for your new summertime hair care go-to? Check out our array of keratin-based, clean, cruelty-free hair care products. Our range of hair treatment products are completely safe, and highly effective– designed to leave your hair healthy and glowing naturally. Go ahead, dive in head first, and #gussiUP with our line of trusted, protective, and restorative hair hydration products.