The Gussi Guide to Halloween Hairstyles
Hair is one of the best outfit accessories, ready to give that extra pop to your vibe du jour. Here at Gussi, we looove any opportunity to get fun, playful, and creative with our hair-styling routines, especially with cute Halloween hairstyles.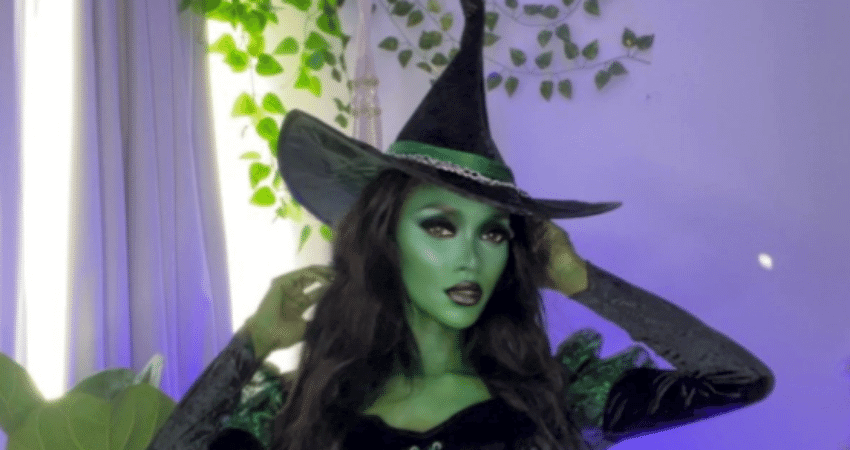 Hair is one of the best outfit accessories, ready to give that extra pop to your vibe du jour. Here at Gussi, we looove any opportunity to get fun, playful, and creative with our hair-styling routines, especially with cute Halloween hairstyles. That's why come October (hello, pumpkin spice szn), we're all systems go planning the Halloween hairstyles we're going to be rocking this year. 

A killer hairstyle can make or break your costume – which is why we've compiled this edition of our Smooth Talk blog with our fav Halloween hairstyles for your inspo. Want to ensure your hair will maintain its vitality, shine, and zero-frizz properties as you play around with new looks? Treat yourself to our  At-Home Keratin Treatment  before you dive into styling to ensure your hair hits the mark this Halloween.
Blonde Hair Halloween Costumes
Everyone's heard the saying 'Blondes have more fun' – what better time to test the theory than Halloween?! One of the most fun characters to dive into this October for those looking to take a walk on the blonde side has to be Harley Quinn. Her supervillainess persona will be an absolute blast to play into all night long, plus her signature high blonde pigtails are at the top of our cute Halloween hairstyles list, perfect for those looking for a blonde hair Halloween costume. Up to you if you add in the colored streaks ;) Looking for something a little less villain-y? You can't go wrong with any one of Britney Spears' iconic looks throughout her epic career. Although, her with the boa constrictor at the 2001 VMAs might be impossible to beat, just sayin'.
Source: Allure
Short Hair Halloween Costumes
For all our short-haired babes out there, don't think your Halloween hairstyles are limited! There are tons of characters who are notorious for their short hair looks, and make for perfect short hair Halloween costumes. One of our favorite short-haired characters to make a splash in 2022 has to be Eleven from Stranger Things. This iconic character is known for her variety of short haired looks, from buzzed head to slicked back hair, this iconic short hair Halloween costume is easy to piece together with accessories you likely have at home already. Don't forget the attitude to match! 
Curly Hair Halloween Costumes
Curly hair and Gussi go hand-in-hand, so it's no surprise that come Halloween we're constantly on the lookout for curly hair Halloween costumes that show off big volume. There's tons of curly hair Halloween costumes to choose from – but one of our tried and true winners is the lioness. Easy to piece together after you've achieved your curly hair dreams, just hit your face with a bit of bronzer, simple cat makeup, a pair of ears, and you're good to go!

Searching for luscious, frizz-free curly hair this Halloween? Treat your hair to an At-Home Keratin Treatment before you dive into your Halloween hairstyle, that way your texture can truly shine. Gussi isn't your average keratin-treatment: our curl-friendly formaldehyde-free formula  keeps your curls alive, just making them more manageable, elongated and smooth...
Source: @flawless_by_tenisha
Source: @snitchery
Halloween Costumes for Black Hair
Sometimes hair color can play a big role in choosing your Halloween costume, especially darker-haired babes who are looking for a spooky take on their black hair. Black hair plays perfectly into witchy, moody vibes, and there's a ton of  Halloween costumes for black hair ranging from classic to uber creative. Hard to go wrong at Halloween in a  witch costume – appropriate for all occasions and recognizable in every setting whether you're a good or bad, cute or creepy witch. You can get super creative with your costume, hitting the thrift store to find the perfect ragged, witchy dress. Grab yourself a broom, pointy hat, and some face paint and you're well on your way! Looking for a take on a classic character notorious for her long black locks? Try out a Wednesday Adams look, with simple pigtail braids providing a spooky take on black hair that's sure to turn heads at this year's party.
Source: @Insider
Source: @joyjah
Red Hair Halloween Costumes
So you've been blessed with gorgeous, red locks? Or you've got some fab coloring, or an even fab-er wig (don't worry, we'll never spill)? No better time to let your hair shine than Halloween! When you've got red hair, you're able to have tonnns of fun with Halloween costumes. A classic red hair Halloween costume that's certain to make a splash is the one and only Ariel. This easily recognizable costume can be fun and playful while also getting sexy. Looking to tip-toe to the dark side for a night? Why not dress as Poison Ivy! Her fit can be easily handmade, but you can also find a cute costume already made online if you're not handy with a glue gun. This look is tied all together with some flowing and gorgeous red hair.

Whether your red hair is colored, natural, or a fun wig for the night, you'll need a way to revitalize your natural hair before a night of teasing, hair spraying, and heat styling. Keeping your locks frizz-free and healthy is the name of the game at Gussi. Treat your hair to a revitalizing At-Home Keratin Treatment prior to the big night out on Halloween. Gussi helps ensure your hair keeps nutrients locked-in and shines lusciously all night long.
Halloween Hair Accessories
Not looking to dive fully into Halloween costumes this year? Not a problem! Halloween hair accessories are a fool-proof way to get into the spooky spirit without having to go full-on costume. We love Halloween hair clips, spider pins, cat ears, or festive bows. Grab your Halloween hair accessories from the drugstore or specialty shops, and if you're feeling really daring then add in some orange hair hues via temporary dye or clip-ins. These Halloween hair accessories help you achieve a festive look  with a more subtle twist.  Call it lazy-girl Halloweening. 


Halloween is arguably the most epic holiday of the year, right?! At least our social feeds think so. For us creatives who love to play with hair looks, there's no better time to dive into the endless possibilities for Halloween hair styles. Before you dive into all of these Halloween hair antics – treat your locks to a powerful Gussi At-Home Keratin Treatment to ensure your stylized locks are smooth, healthy, and full of shine - no matter what costume you throw on!