Meet the Gussi Gang: XiXi Yang
As a millennial lifestyle expert, XiXi is super passionate about products that work and that she believes in! So why did she choose to partner with Gussi?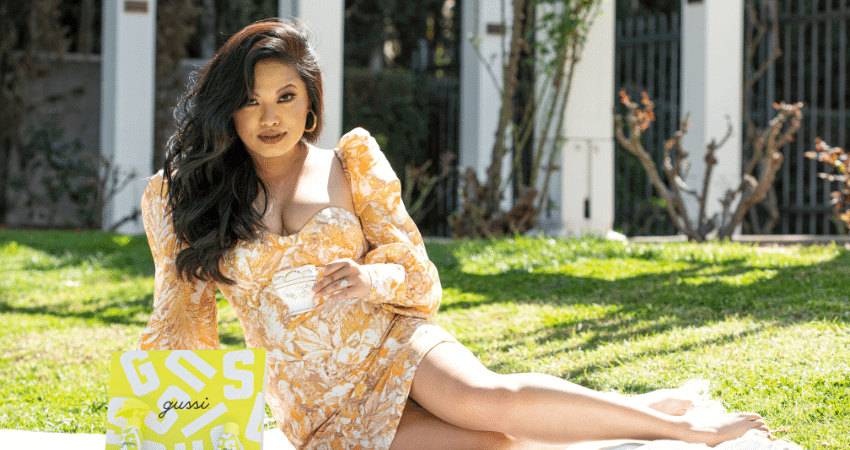 Meet XiXi 
Born and raised in both China and Japan before coming to the United States at the age of 9, Xixi discovered her passion for pop culture on a global scale. With her fascination in both Asian and Western media trends, XiXi went on to become an award-winning entertainment journalist and lifestyle influencer. XiXi's long roster of impressive achievements includes being the first and only Asian-American woman to anchor "Live From the Red Carpet" solo from the Oscars and Grammys!
XiXi's Career 
In 2015, XiXi Yang became the awards season and special events anchor for the Associated Press. Since 2016, XiXi has been an entertainment contributor to CNN and HLN, discussing pop culture and social issues on "CNN Newsroom", "Morning Express", "On the Story", and more. She has served as a spokesperson for various Fortune 500 companies and has been invited as an honorary speaker at various universities and schools, including Compton High School and Yale. Her accomplishments don't even stop there! Since her blog launched in 2015, XiXi has worked as an ambassador for established fashion and beauty brands including Emporio Armani, Coach, Covergirl, L'Oreal, Chanel, and more. Thousands of fans keep up with her every move across her social networks as she shares her personal journey along with advice, tips and tricks for living her best life. We love an inspirational icon, which is why we're thrilled to have XiXi in our Gussi Gang!
XiXi and the Gussi Gang Partnership
As a millennial lifestyle expert, XiXi is super passionate about products that work and that she believes in! So why did she choose to partner with Gussi? Hear it directly from her:
"Everyone knows the feeling of having fabulous, fresh-from-the-salon hair that is shiny, healthy, and frizz-free! So wouldn't it be amazing to have products that can bring salon-quality hair to us at home without spending time or money to go to the salons? I'm a firm believer that everyone should be able to achieve salon-quality hair all by themselves at home without breaking the bank! You shouldn't have to rely on a professional hairstylist, shell out hundreds of dollars and sit in a salon chair for hours just to feel your most confident self in your natural hair texture. 
I fell in love with the fact that not only are all of Gussi's products cruelty-free, non-toxic, and safe but that the brand stands for freedom of self-expression through celebrating our own hair texture. Gussi's products don't change the natural composition of your hair. Whether you have straight, wavy, or curly hair, Gussi's products simply enhance your natural hair texture to bring out the most confident you." - XiXi shared and we couldn't agree more! Our formula has been designed to help everyone fright the frizz and get smoother, shinier, and healthier hair that lasts.


XiXi's Hair Transformation
Her reasons don't end there, as she also explains how Gussi had made her life easier. Being a Forbes Top Digital Entrepreneur isn't easy work, and removing the stress of having a bad hair day definitely makes life easier. After all, no one wants to have a bad hair day for a moment as important as the Oscars. 
"I used Gussi's At-Home Keratin Treatment Kit to get ready for the Oscars! It was my first time doing a keratin treatment all by myself at home, and I was nervous in the beginning because I'm not a professional hairstylist. (Let's be real - I can barely do my own hair.) Gussi's 5-step process was so simple to follow and I managed to finish the entire process in under an hour! The results were unbelievable. My hair was significantly shinier, more nourished, and frizz-free. Gussi's At-Home Treatment Kit also helped to reduce my blow dry time in the morning by 30%, which is super helpful to my busy lifestyle. Thanks to Gussi, my hair is red carpet ready for the Oscars!"
With Gussi's at-Home Keratin Treatment Kit,  XiXi was able to see the transformative results she craved, and with the help of Gussi's Shampoo and Conditioner, her hair stayed fabulous after every wash!
XiXi's Hair Tips and Tricks 
As an avid hair girl and always ready to share her secrets to perfect hair, she gives us her 3 tips for "living your best hair life:
Massage your scalp daily to increase hair thickness! Also, massaging your scalp can dilate blood vessels beneath the skin, which encourages hair growth!

Make sure your diet includes a lot of omega-3 and protein! 

Gussi's At-Home Keratin Treatment Kit is an absolute must for me once every 6-weeks to ensure shiny, frizz-free hair that is so easy and quick to style!"
But she doesn't stop there! If you want to #gussiUP, follow alongside XiXi as she explains each step of the process here - really, it's so easy to DIY at home yourself!
Gussied Up
If you want long-lasting frizz-free hair, while also deep conditioning and repairing your hair, Gussi's at-home keratin treatment is definitely a must-have. Shine like XiXi with fabulous, healthy, shiny hair from just one treatment. And for a limited time, use her code XIXI at checkout for a special discount!
Find XiXi Yang and Gussi on Instagram and show us how you #gussiUP