Pro-stylist approved: Alon Shalom on why he loves Gussi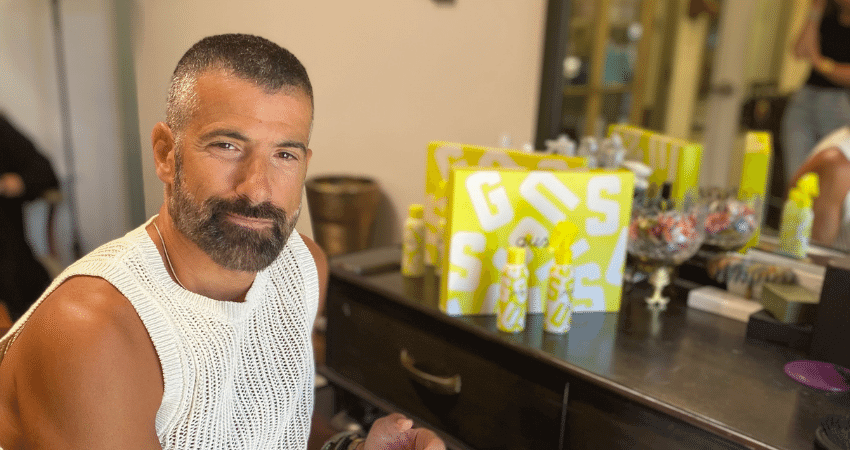 Meet Alon Shalom
Alon Shalom is a celebrity hairstylist based in West Hollywood, California. Alon's name is synonymous with the highest level of style, sensibility, and sophistication. Originally from Tel Aviv, he has been an Angeleno now for almost three decades. At his namesake salon, he's been transforming his clients' hair for more than 28 years. 
We asked Alon what is his favorite thing about being a celebrity hairstylist is: 
"I get to work with beautiful people from the inside out. If you don't have a good heart, don't sit in my chair! I'm blessed to have very inspiring clients who have been with me for a long time and are much more than fabulous looking, they're also doing a lot for their communities."
We love that! We also had to ask what inspired him to come to work every day:
"When a person tells me that they feel much better about their look and themselves when they leave the salon. A client texted me recently saying that she went to an entertainment industry dinner (as we Angelenos love to do) and that a couple of stylists came over to her table specifically to tell her how amazing her hair looked. She was so flattered and felt a boost of self-confidence to go rock the party. In moments like these, I know I'm doing the right thing. I just love making people feel good about themselves."
Understanding his inspirations helped us get a better idea of how truly passionate he is about hair and making people look and feel great.
Professional hair advice 
We absolutely love hearing what professionals have to say about frizz and how to tame it, so we had to ask Alon Shalom about it. These are some of the best hair care tips for those who want to tame their frizzy hair or if you are simply looking for healthy hair tips.  
Q: What type of hair is most prone to frizz?
A: Textured hair like curls or waves tend to frizz due to the nature of the hair pattern making hair inherently more dry, and also gray hair as it's more coarse. Hair that has been put through a lot is also more likely to frizz than virgin hair that hasn't been 'tortured' with dyes, chemicals, heat.
Q: What causes frizz?
A: Frizz occurs when the cuticle is open and not smooth. This means the hair is dry and/or damaged, which can come from a number of factors. It gets damaged from coloring, over-processing, and lots of heat styling. Sun damage can cause frizzy hair - think of how the sun can dry out your skin, it's the same for hair! Frizz is often genetic based on your hair type. Also aging is a big point, as the hair structure changes over the years as the body produces less proteins. Think about it: when you are a child, your hair is super smooth. But as you age, the hair changes due to hormone changes in the body and the subsequent graying of hair. 
Gussi comment: The sun can damage hair? Don't we know it! Check out our blog on how to prevent sun damage to your hair.
Q: How do anti-frizz products help combat frizz?
A: Anti-frizz products close the hair cuticle, taming the coarseness of the hair. These are usually different types of oils or products that contain proteins. 
Q: Who should be using anti-frizz products in their hair care routine?
A: People with curly and wavy hair that tends to be frizzy. People with gray or graying hair. I have many clients with gray hair who want to embrace this hair color, but hair tends to be more coarse and needs extra moisture, which is why anti-frizz products are a great way to keep gray hair smooth and shiny. Anyone who's a fan of coloring or heat-styling, which is pretty much everyone these days! 
Q: There are lots of different types of anti-frizz products like shampoos/conditioners, topical products, and masks. Is it important to use different ones and why?
A: It's important to address frizz in your entire hair care routine. Don't just throw on an oil at the end. Start with a good shampoo (don't cheap out here!), use an anti-frizz conditioner, and use a deep treatment mask occasionally. One thing to pay attention to when choosing the right products is to pick ones that are not changing the natural texture of your hair. Frizz can be a good thing in that it also creates volume in the hair which you obviously don't want to lose. Use anti-frizz products that let you keep the natural texture of your hair but still make it smooth. Curls definitely need more moisture from heavier nourishing products like masks and creams. The curlier your hair, the more care and likely products are needed.
Q: What are the main ingredients that people should look for in an anti-frizz product and why?
A: Choose products that are alcohol-free, paraben-free, and don't contain any formaldehyde because those are just nasty. Daily products like shampoo and conditioner should also be sulfate-free. Natural oils like avocado, castor, or moringa seed oil, vitamins, and proteins are great for taming the frizz and improving your hair health. 
Q: What are your top tips to prevent frizz?
A: 
Don't over-shampoo your hair and don't wash your hair too often. That way the natural oils from your scalp can reach your ends and prevent dry hair. Also, don't be cheap with your shampoo - I can't say this enough. Low-quality shampoo can actually ruin your hair, especially if you color it. I have some clients who complain about dull, frizzy hair and I always ask them: 'what's in your shower?' Always use a good-quality daily routine. It's the same as with your skin. Invest in high-quality products for high-quality results.
A great way to create some extra shine is to rinse your hair with cold water and use a high-quality microfiber towel and a good brush. If you're brave, do your whole hair washing in cool water. 

Don't over-bleach your hair and don't overdo it with heat. Summer is a great time to give your hair a little vacay from heat tools and let it air dry naturally. It's so easy put damp hair into a loose bun or braids after towel drying and sleep on it. You'll wake up with soft waves and less frizz!

What you eat also has an influence on how your hair looks. Take vitamin D, fish oil, biotin, and pumpkin seeds, which make your hair thicker and healthier. 
Q: Is there anything else that you want to share to fight frizz and keep hair shiny?
A: DIY masks are my family's secret. My grandma always did a hair mask that we now all do almost as a family tradition. Mix olive oil, eggs, and avocado together, massage into your hair, and leave it on overnight. You can cover up with a shower cap so it doesn't get on your pillowcase and sheets. This will give you the ultimate shine and gloss. And for everybody who thinks that's too messy: just another reason to do a Gussi treatment!  
Does Alon Shalom recommend Gussi?
When it comes to having the best hair products to get soft and healthy, Gussi is definitely a must-have. From how to get healthy hair or simply adding to your hair care routine, Gussi is a simple at-home solution for your hair. So what does celebrity hairstylist, Alon Shalom, have to say about Gussi? Well we asked and he answered:
Q: How did you discover Gussi?
A: One of my long-time clients recently came in for her balayage and I was blown away by the restored health of her hair – it was so much stronger, smoother, and shinier than usual. I've been doing her hair for almost 10 years and I'd never seen it like this. I was totally shocked when she told me this was all from Gussi's At-home Keratin Treatment! I've never felt her hair so soft and healthy!
Q: What do you think of Gussi?
A: After checking out Gussi, I'm even more impressed that this is a clean, non-toxic formula delivering these impressive smoothing results without formaldehyde. It's awesome that people now have an option to get a keratin treatment themselves at home. I really like that Gussi doesn't break the curl so those textured girls won't lose this cool factor of their hair and also their hair won't lose volume. 
Q: Anything you'd tell your clients who want to try Gussi for themselves at home?
A: Make sure to do the Gussi treatment before coloring your hair, and also just to know that it really is possible for you to achieve a great keratin result yourself at home, it's really easy! I have to say, Gussi's just awesome. 
Gussied Up
If you want long-lasting frizz-free hair, while also deep conditioning and repairing your hair,  Gussi's at-home keratin treatment is definitely a must-have in your hair care routine. After all, we're celebrity hairstylist approved! Get smooth and shiny hair without having to worry about harming your hair. Using our keratin-infused Upkeep Shampoo and Conditioner also helps keep your hair strong and smooth. 
Find Alon Shalom and Gussi on Instagram and show us how you #gussiUP