How to Keep Hair Healthy in the Winter
There are a bunch of different factors (some more obvious than others) that can cause dry hair in winter months. Let's deep dive into how the cold weather affects your hair and how you can keep it looking and feeling 💯 even in the chilly, harsh winter.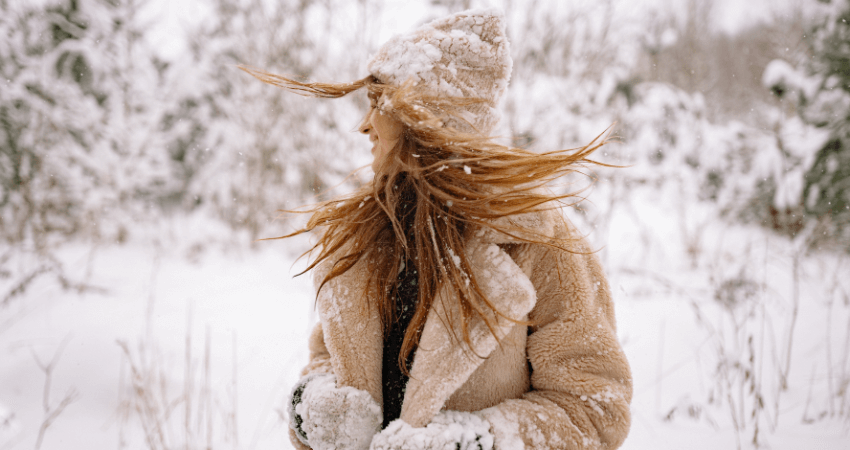 It's no secret that winter can be unforgiving on your skin– leaving it dehydrated, lacking a healthy glow, and without its soft, lush texture. But have you ever noticed its effect on your hair? Just as you change your skincare routine when winter arrives, you've *got* to upgrade your hair game to suit the new season too.

There are a bunch of different factors (some more obvious than others) that can cause dry hair in winter months. Let's deep dive into how the cold weather affects your hair and how you can keep it looking and feeling 💯 even in the chilly, harsh winter.
How Does Cold Weather Affect Hair?
We love a cozy winter moment, but the damaging side effects the cold can have on our precious locks… not so much 🙅🏼‍♀️. Just as a hot and humid summer day can affect your hair, winter's notoriously dry air can cause your hair to become dry, flat, and brittle. As a result, the hair loses moisture and starts breaking and frizzing, creating split ends, static, dandruff, and overall dullness. If you've been looking in the mirror at dull, staticy hair this winter and thought "...this ain't it." continue reading– Gussi's got all of the winter hair care tips for you this season. 
Why does my hair get so dry in the winter?
Let's look at the science real quick: when exposed to cold temps, the blood vessels in your scalp (which transport the necessary nutrients like keratin to your hair, keeping it strong, healthy + hydrated) do not dilate properly. So…what's that mean? Poor dilation in your scalp basically means your hair can't drink up all of those vital nutrients it needs to look its best– causing your hair to dry out and increasing the risk of redness and flaking on your scalp. No thanks!
How does being indoors with dry heat affect hair?
On the other hand, dry heat affects your hair by stripping your hair of moisture, leading to dull, rough locks. The sudden changes in temperature that your hair suffers when you go from the cold outside to warmer temps due to harsh indoor heating also directly impacts the hydration of your hair and is one of the leading causes of hair dryness. So, if you think that the dry heat of your home will correct the effect of the cold weather on your hair, you might be mistaken.
What causes frizz/static in the winter?
During the winter, it's common for people to suffer from fundamental hair issues like staticy hair, flyaways, and frizz. Staticy hair is a notorious side effect of dryness– allowing  electricity to build up in the hair causing the hair strands to reject one another (aka, frizz). Plus, dry hair in the winter can cause breakage and hair loss and make it difficult to manage your hair during the winter & beyond. Another frizz-culprit might be that cute wool hat you've been waiting all year to wear. Wool hats are notorious for adding stress and static to your hair in the winter, so it might be a good idea to stick to other materials when choosing your winter hair accessories. 
How does cold weather affect curly hair?
Generally, cold air is drier and has less moisture. Less moisture in your hair can cause unsightly effects like split ends, dry, lifeless, brittle hair, and an itchy, flaky scalp. Curls struggle to maintain their vivaciousness when the air lacks moisture, leading to limp locks and brittle texture. 
Winter Hair Care Tips
Alright, now that we've gotten the lowdown on what's really going on with our hair during the wintertime, let's run through our top winter hair care tips for combating dryness, and taking down your hair's biggest enemies during the winter months. 
Starting with:
Consider this your cold-weather antidote–  Gussi's At-Home Keratin Treatment isn't just for the humid summer months! This innovative DIY smoothing solution leaves hair soft and easily manageable, even during the harsh winter. It is specifically formulated for damaged and frizzy hair, making it perfect for those moments when the winter blues are bogging down your hair fabulousness. It helps to prevent breakage, strengthens and smoothes hair, and boosts hair's nourishment and shine for up to six weeks. Not to mention – curly haired babes have nothing to fear because Gussi doesn't break the bonds of your hair, meaning your natural texture and flow remains even after treatment! This At-Home Keratin Treatment is the ultimate solution to all of your winter hair care woes.
We preach this pro-tip every chance we can get: It is vitally important to the health + happiness of your hair to keep it hydrated. If your hair is prone to breakage and split ends, the wintertime is a great time to amp up your hair products. Gussi's keratin-packed Shampoo and Conditioner contain active moisturizing ingredients that will nourish your hair and help to preserve the oils your scalp produces to keep it hydrated and healthy. Kiss those dried out winters goodbye!
A humidifier will increase the humidity in your home during those harsher winter months, preserving the hydration and health of your hair without resulting in frizz. Additionally, it will help to keep your hair strong, glossy, and silky. If your bedroom is particularly dry at night, we definitely recommend boosting the moisture in the air by using a humidifier this winter. 
An excellent tip to protect and reduce the damage that the cold weather does to your hair is to trim it regularly. Wintertime is when split-ends *thrive* – and regular trims can help to mediate these effects by keeping your hair ends fresh, healthy, strong, and happy! 
Don't leave the house with wet hair
Leaving the house in the cold winter months with a sopping wet mane is a big no-no for hair health. We know you're busy, and sometimes pressed for time when heading out the door– but taking that extra step to dry your hair before heading out can have huge impacts on your hair health this winter.  Icy cold temps mixed with wet locks can lead to all sorts of negative results, like dryness, split-ends, and breakage. 
Washing your hair too frequently in the winter can decrease its natural hydration and protection, stripping your hair of its natural oils that are there to keep your hair hydrated and protected from breakage. Try your best to space out your hair washes during the cold season. This way, your hair will maintain its natural oils, which will help protect it from the harsh cold temps and the potential breakage and frizz that comes along with it.
Benefits of Keratin in the Winter
If there's one thing you've taken away from this edition of our Smooth Talk blog, it's probably that wintertime isn't the nicest on our hair's overall health. Winter air is super dry, and can do some hefty damage to our coveted hair health by stripping it of its texture & hydration. 
Gussi's At-Home Keratin Treatment paired with the keratin packed Shampoo and Conditioner are the perfect winter hair care products for fighting off the elements during the coldest time of year. Using Gussi's keratin packed products can help to seal in moisture, preventing the common negative side effects of winter on hair like frizziness, dryness, and static. This new, smooth, surface of your hair will help to cut down on drying time, and give you one less thing to worry about when the air is dry, and cold.
Harsh cold weather this winter doesn't have to mean the end of your hair hydration and health. Shop Gussi's keratin-packed winter hair care products collection of keratin-packed hair care products and keep your hair moisturized, voluminous, and strong this winter.